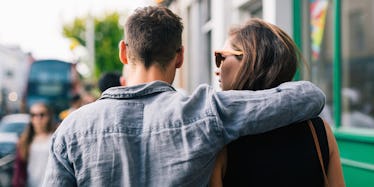 Women Are Proving Victoria's Secret Angels Don't Represent All Bodies
Victoria's Secret Angel is a coveted position, one that calls for years of grueling work and the occasional all-liquid diet.
As models like Behati Prinsloo and Adriana Lima stomp the runway in outrageous wings and stilettos, you can almost hear a collective sigh from women across the nation who will never look the way they do.
And while the Angels can be proud of their dedication to fitness and thinness, plus-size brand Lane Bryant wants to open up the conversation.
A new campaign promoting Lane Bryant's lingerie brand, Cacique, asks women to share why they're not Angels.
The social media effort, which has struck up a heated conversation about body image once more, proclaims all sizes of women can help "redefine sexy."
In an interview with Refinery29, Lane Bryant CEO Linda Heasley clarified the tag #ImNoAngel isn't an attack on Victoria's Secret, per se. It's a nod to the wider spectrum of women not currently recognized by the pink-on-pink brand.
She said,
We really admire Victoria's Secret and what they've done; they're an amazing brand. But arguably, their notion of what's beautiful and sexy is a little narrow, and we want to say that beautiful and sexy comes in all shapes and sizes, as these models prove.
Plus-size retailer Lane Bryant started the conversation with a cheeky #ImNoAngel video.
Even Ashley Graham, star of Sports Illustrated's first-ever plus-size advertisement, stepped in to show off her body.
Submissions poured in through Instagram.
Women have been quick to voice love for their bodies on Twitter, too.
How awesome was @TheSaltNPepa #popup#performance @lanebryant #ImNoAngel pic.twitter.com/oDgKgW8w3h — Vector Media (@VectorMedia) April 6, 2015
I do this ALL day! Loving myself for who I am regardless of my shape or size-Way to go @lanebryant #ImNoAngel #curvy pic.twitter.com/0sppyI8HfF — Dellany Peace (@IAmDellanyPeace) April 7, 2015
#ImNoAngel campaign killing society's idea of sexy & reinventing it pic.twitter.com/8rhtVnOPfO — elizabeth (@75zmalik) April 7, 2015
Citations: Lane Bryants CEO On The Shade In ImNoAngel (Refinery29 )