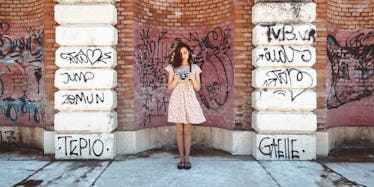 Why Women Are A Force To Be Reckoned With In The Workplace
Stocksy
At one time or another, we've all heard the wise old saying, "You can do anything you put your mind to."
But, in the past, this phrase meant something slightly different when it came to women.
Yes, there was a time when we were considered to be the weaker sex, both physically and mentally. Our role was to cook, clean and be the "yes wife" because the yes wife was sweet, classy and perfected the art of following orders.
During this time, if you didn't have something dangling between your legs, you could forget about having any sort of career.
I know, what a load of crap! Unfortunately, to this day, there are still those who view this old stereotype to be a woman's role.
But, on the plus side, ladies, we've come a long way! Being a successful female in the workplace is not only empowering, but also personally rewarding, to say the least.
Although we may not want to believe that just because we're women we have more to prove, trust me when I say we do.
We have to work twice as hard to show why we deserve that big case or that important client. We stay late at the office, get in extra early and take on caseloads of work just to prove how badly we want that possible future promotion everyone will fight for.
The truth is, a successful career takes extreme amounts of hard work to achieve in general (this goes for men and women), and anyone in a position of success will tell you that, but unfortunately, in some cases, gender can play some sort of role in who will eventually get that big raise or promotion.
My point is, however, this should never stop you from working toward your vision. There is PLENTY of room for female accomplishment in the workplace.
Take for example, Marissa Mayer, President and CEO of Yahoo!. Look to Mary Barra, CEO of General Motors. Also, consider Zoe Cruz, Co-President of Morgan Stanley, or Virginia Rometty, Chairwoman, President and CEO of IBM.
All women, all executives and all certified badasses. Not to mention, Marissa Mayer isn't even 40 years old!
I know what you might be thinking: "How — or better yet — when will I reach that level of success? I'm only a college student or barely started my first, real-world job and I'm at the bottom of the ladder."
Well, the answer's simple: START NOW, ladies.
It's never too late to get a jump on your career. Work as hard as you can, read as much as you can and soak in everyone else's knowledge!
It also helps to read first-hand accounts of women, like those previously mentioned, who are already in positions you eventually want, in order to understand how they got to where they are and what their journeys were like.
Make no mistake, they were not handed those roles overnight and certainly didn't kick back and relax every day to get them.
I've never believed reaching an executive level was a cakewalk, but I've also never once believed it was impossible.
As a female, you have to believe there are no limits to what you can achieve, even if others believe so of you.
You have to empower yourself through hard work, motivation and your unparalleled hunger for triumph! You have to crave that level of success! It has to radiate off you in every aspect of your life.
Female empowerment in the workplace is something you should celebrate, not brush off.
There is absolutely nothing wrong with being someone's secretary or assistant, but imagine the personal fulfillment of having your own. Be that CEO; be that president; BE THAT WOMAN!
Every single one of us can have and should be working toward the career success we've always wanted.
After all, the lion may be "king" of the jungle, but we all know he wouldn't dare test a lioness.