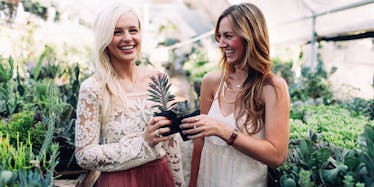 Young Women Aspire To Change The World At Clinton Global Initiative University
On the eve of International Women's Day, and as the Clinton Foundation geared up to launch NoCeilings.org and our "Not There" awareness campaign on gender inequality, I was thrilled to spend the weekend with more than 1,000 students from over 80 countries at the Clinton Global Initiative University (CGI U) 2015 meeting in Miami.
There, I was joined by my parents, NGO leaders and celebrities, including Larry Wilmore and Pussy Riot, to help inspire and empower the students to achieve their Commitments to Action – the new, specific and measurable steps each and every CGI U student has pledged to address when facing the challenges in her community, her country and our world each felt called to tackle.
As we began the second week of Women's History Month, I was especially excited CGI U could provide a platform for students to make commitments that challenge social norms and practices that too often constrain and even deny the potential of women and girls.
I was also grateful we could highlight commitments made by the many brilliant, inspired young women in attendance – young women who are already emerging as leaders on their campuses and will clearly do great and important work in global development, engineering, public health and more.
We saw a wave of students, for example, focused on providing women with practical skills to help them put more and healthier food on their tables and empowering women to be entrepreneurs, for themselves, their families and their economies.
Among these commitment-makers was Ellen Chilemba, a sophomore at Mount Holyoke College, who, at the age 20, is already a rising social entrepreneur in her home country of Malawi.
From her dorm, Ellen runs Tiwale, an organization that helps Malawian women find jobs that are good fits for their skills and aspirations; the organization also provides them with micro-loans to start businesses.
Ellen came to CGI U with a commitment to help local women increase their income and provide employment opportunities through the production of traditional fabrics. Many young Malawian girls – some as young as 12 years old – are married off in exchange for dowries, preventing them from finishing school or growing up to chart their own paths.
To counter this trend, Ellen aspires to work with an expert textile designer to train 40 women in creating dye-printed fabrics to sell locally and abroad. Forty may not sound like a lot – but it's a lot to those women and the other young women they, in turn, will inspire by their examples.
CGI U students also took on public health crises, and a lot of conversation, unsurprisingly, focused on Ebola. Colleen Naughton, a PhD student in civil and environmental engineering at the University of South Florida, came to CGI U with a commitment to prevent the disease from spreading into Malian communities.
While Mali is currently free of Ebola, it was home to six cases in 2014. Colleen's team is coordinating an Ebola prevention campaign through African Sky, an NGO that helps Malians – especially Malian women – confront some of the devastating effects of endemic poverty and inequality.
African Sky will take preventative measures to combat the epidemic by first integrating Ebola education into literacy group curricula in three rural villages. By increasing awareness among hundreds of women and children, Colleen will play an active role in helping keep Malian women and families healthy and Ebola-free.
Throughout Women's History Month, I've been reminded each day of the inspiring, pioneering women who have driven progress around the world – women who broke barriers, blazed trails and shattered glass ceilings that had prevented them from realizing their full potential.
As the month soon draws to a close, I'm more excited than ever to look to the future and to the role young women will play in shaping it – women like Ellen and Colleen and the many others I met at CGI U.
I hope they and other young women -- and men! -- will turn to NoCeilings.org to explore the comprehensive, data-driven analyses around the status of women and girls in the 21st century.
There has never been a better time to be born female, but so much work remains before women and girls can reach full participation in all aspects of society.
It is my sincere hope that all our CGI U commitment-makers – and every other person who is passionate about driving change in our world – will use these data to better understand the challenges women and girls still face, and to make a measurable difference where it matters most.
By empowering this generation of leaders with the data they need, we can build a more equitable future, together.