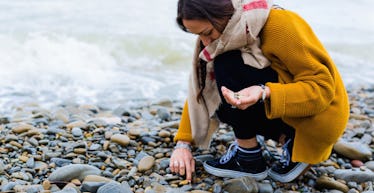 Women Are Getting The 'Cinderella Surgery' So Their Feet Can Fit The Perfect Shoe
Is this for real?
According to Time Magazine, some affluent women in the United States are going to drastic measures to be able to fit into the covetable designer shoes that often grace the runways.
These women, the magazine claims based off a similar article in The New York Times, are seeking plastic surgeons to perform a "Cinderella" procedure that entails women getting their toes shortened or lengthened, having bunions removed, and even getting fat injected into the bottoms of their feet — presumably to provide more cushion when walking around in those six-inch Louboutins (spelled incorrectly in this dubious Time article, by the way).
But if these wealthy, urban women can afford to undergo body-altering procedures, why can't they simply find a designer shoe in their normal size?
Spiky Alexander Wang heels and pizza-toed Christian Dior skyhigh slingbacks will likely never be comfortable, and I don't know that a painful, toe-cutting procedure would ever be able to fix that.
H/T: Time, Photo Courtesy: Fanpop