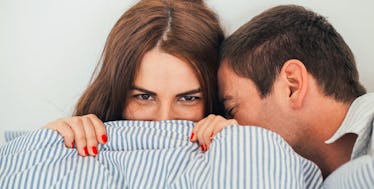 This Woman's Slam Poem On The Definition Of Consent Is Something Everyone Must Hear (Video)
Stocksy
Poet Britteney Conner redefined consent in her spoken word poem "Consent" at the Rustbelt Regional Poetry Slam in Detroit.
In her poem, posted to Button Poetry, Conner defines consent in multiple situations. She says it's knowing the difference between "being able to tell when he's roughing you around" and "liking it rough."
She says it isn't love, it isn't a guilt trip, it isn't the consumption of alcohol, and it isn't what your friends tell you to do. She defines consent as the goosebumps you feel when his hand touches your thigh as "a story you can not wait to tell."
Most importantly, she says that "consent is being able to look your partner in the eye, but more importantly, consent is always being able to look yourself in the eye."
Her most powerful phrase comes at the end: "Consent is not the absence of a 'No.'"
H/T: Huffington Post