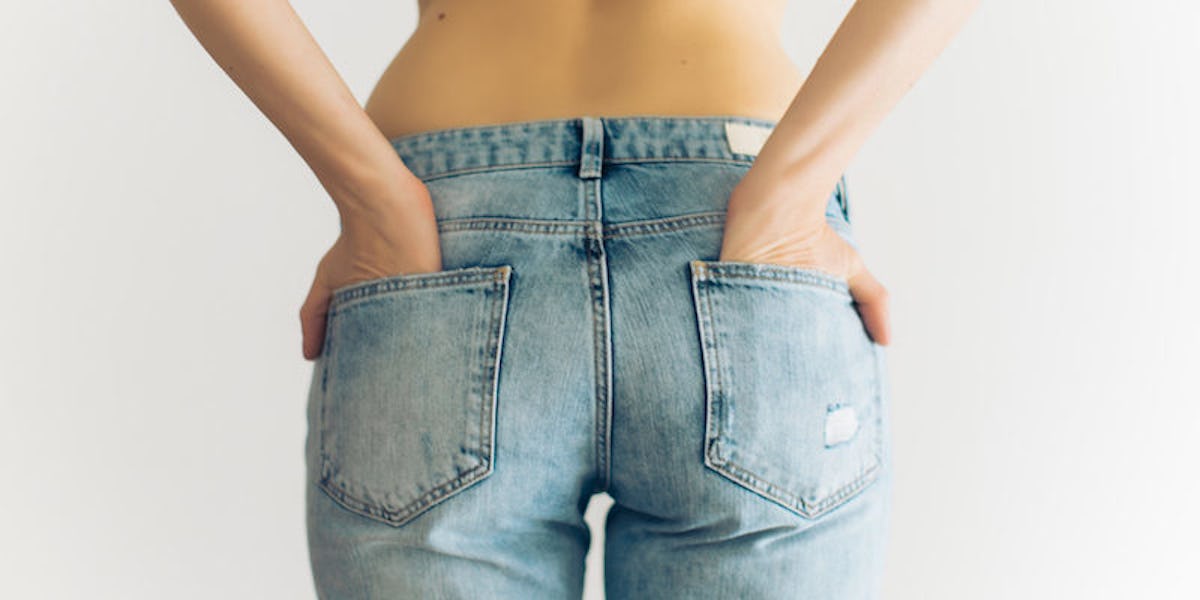 Why You Need At Least One Good Pair of Really Expensive Jeans
Javier Pardina
I'm the queen of the splurge.
I don't shy away from dropping dough for decadent food, a price-y haircut or even a membership at an upscale gym. I'm a firm believer in treating yo'self, particularly when you're feeling crappy about something else.
Naturally, after a particularly sh*tty week, I decided to swipe my credit card on something absurdly over-the-top: a pair of $225 Mother Denim Looker jeans.
I know. I know. That money could've been better spent on a weekend trip, a pony or f*ck, something even slightly more permanent than a pair of jeans with a triple-digit price tag. But here's the thing — denim, to me, is as good an investment as the stock market. OK, maybe not the stock market, but it's a damn good investment, OK?
The thing is, I own a lot of jeans. I'd even venture to say I have a denim library. None of those jeans, however, came with a price tag even remotely under $100, and it ain't because I'm a baller. I just love jeans.
See, my splurges aren't usually on clothing. The four things I am willing to go bankrupt for, though, are a great pair of boots, a leather jacket, a wear-anywhere dress (usually in black) and, you guessed it, denim.
More importantly, I think you should splurge on a great pair of jeans, too. Call me crazy, but denim is totally worth eating ramen for an entire pay period for — and here's why.
All you need is one really good pair.
I don't need to tell you how versatile jeans are. I've worn black skinnies on dates, to work, and even low-key rocked 'em on job interviews when I was too lazy to put on a pair of "real" pants.
Personally, I'm all about a really dark wash skinny pair for everything. They'll never go out of style and they go with, well, everything.
They get f*cked up better.
I distress my own jeans, so I know a thing or two about sh*tty denim. Most cheap pairs are straight up Spandex, which looks like sh*t when you run a razorblade or sandpaper across them. Raw, selvedge denim not only fades better, but it holds up to a good amount of wear and tear.
Additionally, denim with a lot of give (looking at you, jeggings) stretches out at the bum and knee, which makes you look like you have secretary butt. A thicker fabric might not feel as comfortable when you first slip them on, but once they're broken in, they will hold their shape.
You're actually saving money.
Look, jeans shopping is hard. It doesn't matter what body type you have or what budget — jeans are never an easy buy because you have to try on a million pairs to find one that doesn't look like sh*t. When you do find that magical unicorn pair, it's worth spending a little extra on them.
More importantly, that glorious pair of jeans won't stretch out over time, which means you won't have to drop any more of your hard-earned cash to get a replacement pair. Your jeans will make your ass look equally fab the first time you wear them and the hundredth. You know what that means? Spending more now will save you money in the long-run, and that's the most important thing, right?
Three words: cost per wear
My most-worn pair of jeans are a pair of J Brand high-waist skinnies in a midnight blue wash. They're my ride or die jeans: I've worn them at least once a week for the past two years. Sure, they might've cost me around $200, but if I divide that by the amount of times I've worn them — let's say around 100 times — that brings down their cost per wear to 2 bucks. Suddenly dropping a couple extra Benjamins doesn't seem so bad, right?
I know I sound a bit like a used car salesman, but seriously: Expensive jeans are the SH*T. Plus, they'll pay for themselves in drinks and dates alone.