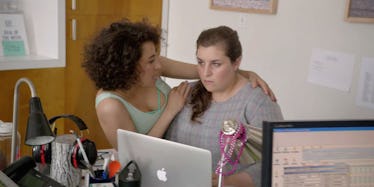 These Are The Things Women Want Most In Their Career, According To LinkedIn
3 Arts Entertainment
What makes a dream job so great? Is it the people, the free snacks or the fact that employees bring their dogs to work every day? My vote goes to the dogs, but that's personal preference. In reality, it's a combination of many factors — a magic recipe, if you will — that keeps employees focused and content.
Career networking site LinkedIn set out to understand the "magic" a little better, using the interactions of more than 400 million members to put labels on what's most important to workers. Since February, the company has taken a microscope to employees who work at businesses with over 200 employees. After grappling with all the data gathered, LinkedIn released its Top Attractors list.
It's no surprise that near-mythical companies like Pandora and Google make the list. The former totally covers gender affirmation surgery, while the latter treats its staff to global cooking classes. These ain't your mama's 9-to-5, that's for sure.
Incredibly, LinkedIn can break down its insights even further to isolate what each gender prefers in an employer. Earlier this year, news that cold offices make inhospitable work environments for female employees went viral, proving even basic needs are rarely met for women. If you're so busy sneaking tampons into the bathroom that you can't accomplish your daily tasks, then something is wrong.
Unsurprisingly, many of female employees' biggest concerns deal with family. Ladies prioritize shorter commutes 10 percent more than male counterparts, and longer parental leave by 9 percent. Women also want the freedom to work from home, with 75 percent of women making the choice a priority. I don't even have kids; I just want to wear my fuzzy slippers and messy bun all day. Although, this is the internet, so I suppose I could do that anyway and no one would ever know.
Notably, in a world obsessed with sexy startup culture, nap booths and midday ping-pong matches, women still say it's easier to get promoted and noticed at a large corporation — perhaps in part due to the infrastructure already in place at bigger companies. Indeed, 88 percent of men report rapid growth at their startup as opposed to 71 percent of women. Scary, right?
If you're feeling stuck or unmotivated, this LinkedIn data proves you're not at all alone.