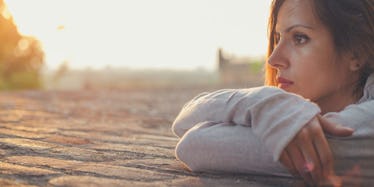 #TBT: What Every Basic Girl Loved Most About Limited Too
Stocksy
In late 1990s and early 2000s, Limited Too was a Gen-Y girl's Mecca. This is where you could find, literally, everything and anything that you could ever desire.
Did you want a clear backpack in the shape of a sunflower? Well, they had that. Did you want lipgloss with tiny sequined stars in it? They had that too. Did you want a 200 pack of butterfly hair clips? WELL THEY HAD IT.
I definitely was not the only girl who would beg my mom to take me to the mall, and then get minor heart palpitations as I walked into the store completely overwhelmed with the amount of merchandise before me.
Tables, racks, walls -- filled with sparkly, shiny, colorful sh*t. I didn't even know where to begin. This place was complete sensory overload.
The music (Spice Girls, Britney Spears, Jessica Simpson, etc.) was blasting, the lights were flashing and the walls were definitely furry (yeah, they were way ahead of "Get Him To The Greek" on that one).
Most of the merchandise looked like it was leftover from the sets of "Xenon Girl of The 21st Century," or any of the Mary-Kate & Ashley movies and we were in pre-pubescent heaven.
The only thing better than the clothing was the collection of accessories. There were glitter tattoos, change purses made out of small stuffed animals, stickers with failed attempts at ironic humor (I Left My Brain In My Locker!) and metallic eyeliner.
Limited Too was truly a Gen-Y girl's paradise, but sadly, once middle school rolled around, we were forced to abandon ship and move onto greener and sluttier pastures.
Long Live Limited Too... (and death to "Justice" and its pathetic, feeble attempts to be anything like its unparalleled predecessor).
On this #TBT, I decided to ask some of the ladies of Elite Daily what their favorite Limited Too products were... in no particular order:
"Aside from the decor (my favorite color is still sparkle), my favorite thing from Limited Too would have to be the too-small baby tees with the brand plastered on it. They showed off the awkward nipple bump we all got before we developed, which meant our moms would have to buy us training bras… FINALLY." - Kaitlyn Cawley
"LTD 2 was the only place I could get my hands on the Spice Girls edition Chupa Chups lollipops. They came with collectible stickers and my friends and I would beg our parents to take us to the mall to get some.
They eventually contributed to the end-of-the-year Spice Girls vs. Hanson Brothers trivia battle I hosted in third grade (I was very into "Jeopardy") at the time. Spice Girls obviously won." - Elizabeth Baugh
"OH, I really liked those weird Limited Too hats that look like they belong in the 1920s." - Alexia LaFata
"They sold shirts that had a Velcro strip across the chest and they came with letters so you could design your own messages.
I didn't wear mine often because committing to a message for a whole day gave me anxiety (Can't you tell that I was SO cool in elementary school?!), but I think Limited Too deserves credit for unknowingly inventing the Facebook status." - Alexis Gutter
"The shirts that had a tiny little cut-out hole in the back near the neck with a tie to make you feel sexy and cool like the Spice Girls... without actually being sexy at all." - Brittany Leitner
"Choker necklaces, glitter body spray, flower bath rugs." - Lauren Martin
"The shirts that had a long sleeve on one side but a tank top strap on the other. Can you say tReNdYy?! Then I realized that literally EVERYTHING from the store had Limited Too or LTD2 on it in some way." - Corina Aparicio
"Ugh, my metallic purple shooooorts." - Gigi Engle
"Also, the photo booth in the store and the fact that there was a phone that would connect you with other Limited Toos. So great." Corina Aparicio, again.
"Camis with built-in bras because I was an early bloomer and it didn't make it obvious that I needed a bra." - Ashley Fern
"I loved the Limited Too underwear. I used to have one pair that was glittery with a monkey on it that said 'Super' and I deemed it my 'lucky' pair. I know this because I still wear it." - Laura Argintar
"Let's see if I can even remember... I was a basic bitch and did love that store." - Diana Reynolds