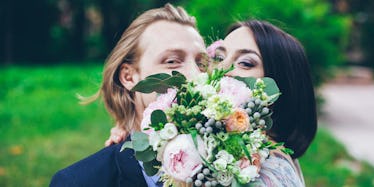 10 Wedding Money-Suckers To Avoid For A Big Day You Can Actually Afford
Yury Goryanoy
I am nowhere near getting engaged. I am as single as a person can be. My phone is packed with dating apps I don't use and my Fridays are reserved for take out and the couch, not make out and the couch.
But, even though I'm years away from getting engaged, I've starting to save for my dream wedding now.
Weddings are infamous for being annoyingly expensive and the main reason for that is because couples think they need to spend a lot on things society tells them they need.
So, when you're making your wedding budget, or if you're like me and started saving now, here are some of the money-suckers you can cut out to make a wedding budget you can actually afford.
1. Paper Invites
Whenever I get a wedding invitation in the mail, it's likely that I tear it open, watch different parts of the invitation spill out on my floor, and then let it sit there for a week or two. I rarely remember to RSVP and, when I do, I realize I don't own any stamps.
Sending out paper invitations is a budget-breaker and it's also a bit old-school. Go digital with your invites. Not only will you save a ton of cash, but you'll also save your wedding guests from getting paper cuts when they have to rip open your giant invitation.
Set up a free wedding website, send out a free wedding evite and ask people to RSVP online. (For free.)
2. A Designer Dress
I'm as single as could be and I already have my eyes on a wedding dress  I would someday like to purchase and wear as I saunter down the aisle. The only problem is, this dress costs about two times what I pay for rent in New York City.
If your wedding were any other day, you would get acid reflux thinking about spending a couple thousand dollars on an outfit you will only wear once, for eight hours max? Instead of browsing the racks at a designer wedding dress shop and salivating over dresses that will eat up your savings account, stick to lower-priced wedding dress stores, or skip the fancy dress all together and go with something more casual.
3. An Engagement Party
Any party with an open bar is a party I want to be invited to. But, when couples opt for an engagement party, it's often as expensive as throwing themselves an actual wedding, months before the real deal.
It's not worth blowing your budget on a pre-wedding celebration that will require a separate to-do list for planning and a separate bottle of Advil for headaches.
4. An Open Bar
Before you lose your cool on me for suggesting not doing an open bar, hear me out. I'm all about splurging on an open bar. Free booze is the ultimate gift for wedding guests who've traveled near and far to celebrate this day with you.
But, instead of having a full bar, consider limiting the kind of drinks you offer. Select a few brands of beer and wine and a signature cocktail or two. Trust me, your guests will still be satisfied with that.
5. A Venetian Hour
No matter how good the food is at a wedding and how many appetizers I stuffed down during cocktail hour, I always look forward to what's offered for dessert. I've seen people have just wedding cake as an option and I've seen people create their own Willy Wonka's Chocolate Factory.
Despite my sweet tooth, I suggest limiting the offerings to just a few desserts. Going crazy with an entire dessert bar is a bit much. By the end of the night, guests are full, drunk and too focused on the dance floor to eat your money's worth of that dessert bar.
6. A Pair Of Dancing Shoes
When it comes to wedding shoes, the only rule you should follow is the rule of comfort. Forget spending a ton of money on a designer pair of shoes you can hardly walk in. People will hardly see them underneath your long, flowing dress, anyway. Go for a less expensive pair that won't make your toes go numb and your feet pop out in blisters.
7. Giant Flower Arrangements
I've never been that into flowers at weddings. With everything going on at a wedding, the last thing you'll notice are the flowers. If you want to trim a couple thousand bucks off your wedding budget, you can do so by going easy on the flowers.
Forget the giant floral arrangements and create your centerpieces out of free or cheap materials like pinecones, fruit or seashells. Or, use objects you can borrow or rent.
8. A Wedding MC
You don't want people glued to their seats at your wedding. Still, you can get the party started without shelling out the cash to hire an MC. You can ask the DJ to help guide people to the dance floor or even recruit a fun group of friends to march onto the dance floor the second the party starts.
9. A Fancy Wedding Cake
Even if those multi-tier wedding cakes catch your eye, think twice before buying one for your wedding. You can get away with an equally tasty cake for half the price if you skip out on the traditional look and feel of the "wedding" cake.
In the end, cake is cake, and your guests will be happy with whatever sliver is cut and put on their plate.
10. Party Favors
I rarely remember a time when I took party favor home with me. Couples spend a lot of money on favors that usually get left behind at the wedding. Most of your guests won't even notice if you have them or not, so don't feel like you have to add that into your budget.
Hopefully, cutting out some of these common money-suckers will help you plan the wedding of your wildest dreams without going into debt.