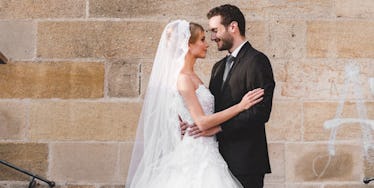 Sweating Out Style: How To Wear Sweatpants Without Ever Hitting The Gym
There are certain times when you need to leave the house but realize you simply cannot do so in anything but your sweatpants. (Cough, grocery shopping, cough.)
Sweatpants aren't usually an appropriate outfit option for anything other than a Netflix marathon (just ask The Plastics).
So, how does a girl fix her sweaty situation?
If sweatpants are all that fit you right now, you're in good company. Joggers and elastic ankles, formerly known as "gym clothes," have been upgraded in the fashion world to high-class levels.
They're now socially acceptable to wear outside of the house.
With the right combinations, you can wear your sweats and still look put together. It's painless, mindless and, most importantly, comfortable. No squeezing into skinny jeans here.
How to wear them at work:
There will eventually come a morning you're just too hungover to be bothered with anything but sweats. We hereby declare it's OK to ditch your denim (even if isn't Casual Friday).
Since you're going with such a casual pant, dress it up with a great pair of booties and a sleek clutch. Your coworkers can't judge your sweats if you're rocking them like a champion.
How to wear them to brunch:
Make the most of your Sunday Funday and party on in your joggers. Even if you aren't up to it, your outfit will be. Throw on an accent piece and funky top to fake it until you make it... to the bathroom.
How to wear them to a bridal shower:
If you're going to go to yet another girlfriend's bridal shower this weekend (it's wedding season, bridesmaids!), you might as well be comfortable. Sweatpants to a bridal shower? Yes. Seriously.
Look for fancier fabrics like silk or satin, and opt for stylish pattern to elevate the loose cut. Polish it all off with a short, fitted blazer and then go polish off a few champagne flutes.
How to wear them to the movies:
The beauty of going to the movies is knowing barely anyone will see what you're wearing in the dark. A pair of denim sweatpants could just as easily be a pair of jeans.
If you're going to watch a film, you'll want to dress the part.
How to wear them to ladies' night:
The easiest occasion to don sweatpants is when you're out with your girlfriends. They don't care what you look like and you're not trying to impress men, anyway. Glam up some leather sweats with a popping stiletto.