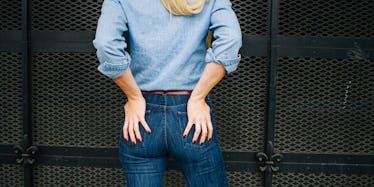 Blue Dreams: Here's How To Pull Off Wearing Denim Every Day Of The Week
There are some days when you just want to wear jeans.
You feel like you have nothing to wear. You feel fat in that corduroy skirt you just bought. You generally just don't want to wear any fabric that'll cling to your skin or just make you anything less than comfortable.
For me, those days are usually Monday, Tuesday, Wednesday, Thursday and Friday. (I try not to wear any pants at all on the weekend.)
If I wanted, I could wear my high waisted skinny jeans to work every single day. They hold in my stomach after lunch and can be worn multiple times without needing a wash. But wearing jeans 24/7 can get monotonous and old real fast.
Sure, some say successful people wear the same thing to work every day, but as much as I love my jeans, I could never do that. I need dresses, accessories and multiple pairs of shoes.
Luckily -- unless you work in an office with a strict dress code and general lack of style -- you can wear denim pieces Monday through Friday, without looking like you've been channeling Mark Zuckerberg.
Here are a few ways to pull it off:
Monday
Waking up for work on a Monday is far from pleasant, but you're still going to want to look put together for your 9 am meeting.
For that to happen, stay far away from your ripped jeans and choose clean lines and simple accessories -- red lipstick and a hint of gold -- to make sure you don't look like you just rolled out of bed.
Tuesday
There's nothing good about a Tuesday. Yeah, it isn't a dreaded Monday, but it isn't much better.
You're probably still exhausted from your weekend, so an easy dress is crucial.
Go with black accessories to make sure you don't have to think twice about matching or deciding what looks good.
Wednesday
For some godforsaken reason, your roommate decided to schedule her birthday dinner on a Wednesday night: That calls for being picture ready coming straight from the office.
After work plans mean you can have a little bit of fun with your mid-week denim choice, so don't be scared of trends here.
The red bandana will make sure you stand out in the huge girls' group Instagram picture you're bound to take after a few drinks.
Thursday
Thursdays are fun.
Thursdays mean the weekend is almost here. But Thursdays also mean impromptu happy hours and being forced by your coworkers to spend all night barhopping.
You could choose your favorite pair of Levis, or you could make a statement in a denim pinafore. Either works, but you're more likely to get compliments in the latter.
Friday
You should probably wear a tank top instead of the bralette to the office, but otherwise, you're ready to head straight out as the clock hits 5 pm.
Black denim is a solid transition piece, and a jean vest can dress an outfit up or down, depending on the occasion.
Now, go get yourself a drink and celebrate the fact that you were able to wear jeans to work for a solid 5 five days.