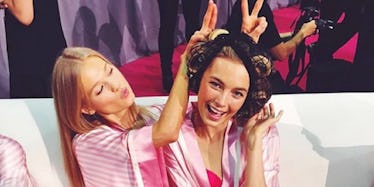 These Backstage Photos From The VS Fashion Show Will Give You All The FOMO
Being a Victoria's Secret Angel has to feel a lot like being Celine Dion at the end of her Las Vegas concerts. Glitter, flowers and hair extensions extend as far as the eye can see.
Today marks the taping of the 20th Victoria's Secret Fashion Show. It's a day in which all of America joins together to worship spray tans and liquid diets. Although the lingerie stampede won't air until December 8, the models have been eager to share the backstage celebration on social media.
As much as we roll our eyes at the Angels, they feel like old friends -- the prettier, more popular kind. They sometimes annoy us, but we can't stop compulsively stalking them on Instagram.
We already follow the exploits of models like Kendall Jenner, Taylor Hill and Candice Swanepoel on Instagram.
So, when they get together in matching pink robes, it's like the largest sleepover of extremely tall, thin aliens that's ever happened.
All day, we've been following the Angels' Instagram posts.
Not to mention, we've been stress-eating Fiber One brownies.
We'll regret that later.
No one does FOMO (fear of missing out) like these ladies.
With their matchy-matchy hair nets and curlers, they look like a much cuter version of the "Bye-Bye Birdy" cast.
You can almost hear the Ellie Goulding music playing in the background.
An entire glam squad? Casual.
Neon sign? No big.
Today, these Angels get their reward for long workouts and diets that may or may not include cotton balls.
They're living like queens.