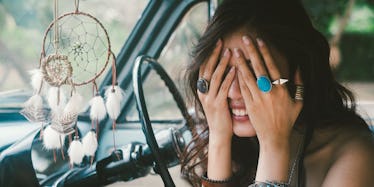 5 Reasons Why A Vibrator Is A Better Beauty Investment Than Mascara
I wish I could say I was gloriously wealthy and never had to make a single financial sacrifice in my life. But that would be a bold-faced lie.
What can I say? I'm young. I'm reckless. I'm a poor writer cursed with expensive taste. The other morning, I found myself having to make a tough monetary choice.
Let's rewind: It was just a typical morning in the life and times of Zara.
I was blissfully painting my face with the usual heaps of makeup whilst rocking out to the sultry sounds of Ms. Fiona Apple, when suddenly, I was thrown for an unexpected loop.
It came to my attention that my beloved mascara was running dangerously low. I gave it a good shake and dutifully brought it to my eyes only to find it sticky and dry to the lash.
My normally luscious, always thick, wet-looking lashes looked brittle, clumpy and, dare I say, dehydrated.
My glorious lashes appeared more like wicked, frail spider legs than the invigorated Bambi-esque eyes I'm usually able to expertly emulate.
This certainly wasn't a life crisis, but it was most definitely a financial crisis.
While my wonderful mascara retails at my local Sephora for only $22, when you're on a budget as pinched as mine, $22 can be the difference between a rent check clearing and a rent check bouncing.
It's sad but true, my lovelies.
Plus, I already had plans with a dear friend to go vibrator shopping later that afternoon. She was in the throes of a brutal breakup and was desperate to remember she had the ability to feel good again.
I hadn't factored new mascara into the week's budget, and payday was a good 12 days away. My slight budget had only allotted for a $32 pocket rocket mini vibrator, not new makeup.
It was a modern day dilemma for the new millennium. What's a girl to do? I wanted the vibrator. Hell, I needed the f*cking vibrator.
But I also love my mascara with a ferocious intensity. After all, who am I without mascara-laden eyes?
Before I knew it, a deeper question creeped into my brain: Who am I without earth-shattering orgasms?
I chose the vibrator.
Because when faced with the pressing choice of beauty vs. sexuality -- I chose my sexuality. When outer appearance and personal pleasure fight an epic battle in my mind...pleasure wins.
And truth be told, I'm teeming with pride that I, Zara Barrie, chose my libido over my looks. Because in this seemingly trite personal journey, I learned an unexpectedly profound lesson:
A vibrator is not just connected to sex. It's actually a better beauty investment than mascara could ever be.
Allow me to sexplain the "whys" and "hows" that led me to this sexy revelation:
1. Orgasms reduce stress.
Ladies and germs, lez get real: The more orgasms we collect throughout the week, the less stressed we will feel. It's as cut and dry as science:
When we have an orgasm our bodies release a lovely little feel good called "oxytocin."
Oxytocin is sort of a natural Valium. It makes us feel nice and relaxed. It's a natural countermeasure to stress hormones.
And we all know that regardless of what the beauty industry would like us to believe, not even the most expensive, exclusive makeup purchased in the poshest department store in the glamorous city of Paris could help to save a stressed face.
We've all hopelessly gazed into our stressed reflections at one point or another. Dark circles and furrowed brows aren't a good look on anyone (except maybe Kate Moss circa 1994).
When we feel serene, we look sensationally better. Our skin glows with an ethereal light; our genuine smiles beautify the surface of our face; our eyes are illustrious and peacefully alive.
We simply radiate calm, magnetic vibrations after pleasing ourselves with vibrations from our trusty vibrator.
2. A girl can wear too much makeup, but she can never have too many orgasms.
The trouble with makeup is us girls can easily become dramatically overzealous about the whole ordeal. It's addictive like a drug. We can't help but reapply it throughout the course of the day. It's never enough.
We go from wearing a dab of gloss as a teenager to needing full coverage foundation, oxblood red lipstick and surplus of concealer just to leave the house, as adults. MORE. MORE. MORE.
What was supposed to "enhance" our natural beauty can quickly take a turn for the worse. Before we know it, we look less like better versions of ourselves and more like retired beauty queens gone terribly wrong.
I'm not makeup shaming. I LOVE makeup -- it's just damn girls, we can over-f*cking-do it sometimes.
The beauty of choosing orgasms over makeup is that while they're equally as addictive, you can't overdo orgasms. In fact, orgasms thrive in abundance.
The more orgasms we have, the better we look, the healthier we are and the more we expel hot sexual energy into the universe.
3. Makeup covers us up, but orgasms release.
Makeup does a beautiful job of covering up all of our flaws. It's true, my young kittens.
Don't want anyone to know about the hideous pimple smack in the center of your forehead? Slather on a thick toxic cream in the color of your flesh, and no one has to ever f*cking know.
The act of putting on makeup, however, has a sneaky habit of unexpectedly chipping away at our confidence.
We stare into the mirror and focus in on all the things we want to "correct."
When maybe, if we were to stop critiquing ourselves so vehemently in our giant magnifying mirrors every day, we would realize we kind of look okay as is. That we aren't that awful-looking barefaced.
Orgasms do the opposite of covering up; they provide us with a gorgeous release.
When we reach climax, all of the stress and fears and worries of the cruel, cold, high-pressured world dissipate in one sweeping sensation of pleasure, babes.
We aren't focused on our flaws; we're focused on our feelings of sexual bliss.
4. Orgasms amp up sexual energy.
The more sex you have, the sexier you are.
Have you ever walked down the city streets the morning after a salacious night of mind-blowing sex?
It doesn't matter that you're doing the walk of shame. That your hair is a matted, sexified wreck.
That your eyeliner has made its way halfway down your face. That you're covered in hickeys and kisses.
All eyes are on you. Your body oozes sex, sex, sex. It's as if people can smell it on you. All eyes are magnetically drawn to you, regardless of what you're wearing.
It's a fantastic f*cking feeling.
When we regularly use a vibrator, we have the awesome ability to maintain this kind of sexual prowess all the time. Spend less time doing your makeup and more time with your vibe.
5. Vibrators cultivate inner beauty.
Why do we essentially purchase makeup? What's the true purpose behind the globs of mascara and the surplus of lipsticks?
Yes, it's partly for ourselves, but it's also often because we want to look hot and f*ckable to the outside world.
And there is nothing in the world wrong with that. But always remember: You don't need to rely only on outside entities to make you feel good.
By choosing the vibrator over mascara, we are saying, "F*ck you. I can make myself come, f*ck you very much."
It's empowering. We are declaring to the world at large that while it's nice to feel sexual desire from another person, we can get it on our own too.
And ultimately, there is nothing sexier than a woman who knows how to pleasure herself.
No amount of mascara in the world can compete with the inherent confidence of a strong, fierce woman in touch with her sexuality.