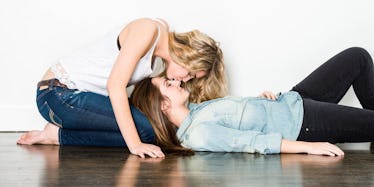 Your Own Worst Enemy: 23 Times You Completely C*ckblocked Yourself
Stocksy
The art of cockblocking — whether intentional or not — is probably one of the more unfortunate things you can deal with on any given night out.
It thwarts whatever plans you thought you had and spirals them into completely different circumstances.
Sometimes you only have yourself to blame when getting into unfortunate situations and when you royally f*ck up a hookup, well that is just one of those times.
I mean who else's fault is it if the guy you are chatting up sees your most recent Google search includes "dormant herpes symptoms" and "the closest pizza place"?
That's just really not a good look for anyone, and you can bet your night is ending right then and there.
So, what do those times look like when we ladies cockblock ourselves?
1. When you forget you have your period...
You must be pretty damn wasted to forget your monthly visitor is in town.
This is a terrible way to cockblock yourself, since you literally have this person exactly where you want, and the only thing preventing what you want to happen is yourself.
2. When you got so wasted you threw up on yourself and/or another person...
Well that's a big red flag and a guaranteed way to end your night alone. No one wants to get stuck with the chick who can't keep it together — at least hit the bathroom if this is going to happen.
3. When you got too drunk and quadruple texted that guy you were hitting it off with...
Sure, you may be over games, but that doesn't mean you can word vomit all over your screen. This is the quickest way to send a guy running for the hills.
4. When you call him by the wrong name...
You can actually feel the awkward. There really is no coming back from this terrible situation.
5. When you pass out prematurely...
Maybe it's a sign you shouldn't be doing certain things, hmm.
Don't be pissed off, and instead, take this as a blessing because knowing the only embarrassing thing you did was fall asleep is a great feeling.
6. When your hunger wins over everything else...
When it comes to getting some, the only thing you are focused on getting is food — everything else is quickly placed on the back burner.
7. When you lie about everything, and he clearly knows...
The awkward moment when you forget the lies you have already told so you're forced to come up with new ones, and then you start contradicting yourself. Uh, what?
8. When you start crying into someone's mouth about an ex...
I'm surprised this person is even allowing it to get this far...
9. Any and every time you revealed TMI...
Maybe you should leave those stories about your college spring break in the past where they belong.
10. When you pick the drunkest person at the bar...
This is a desperate move that doesn't look good on anyone, especially this victim you're picking up at the bar.
What do you think is going to happen when you bring him back to your apartment?
I'll tell you — he's going to eat all of your food, and then immediately pass out (you should probably join him).
11. When you mention your friend who's definitely more than a friend...
Our mouths move quicker than our minds when we're drinking, so it's not uncommon to let the cat out of the bag.
Sure, you may not be full-fledged dating someone, but most single people have some sort of roster going on.
The important thing is that you keep said roster TO YOURSELF.
12. When you make out with a person who you know isn't going to make it out of the bar...
All the action you are getting is right then and there; there isn't even a slight chance this person is making it home with you.
13. When your Plan A arrives at the bar while you're chatting with your Plan B...
When I said come meet me out, and you said no, then show up, what else do you expect to happen? Take a number, and get in line.
14. When your roommates are your parents...
You can't even enjoy yourself because all that's on your mind is the amount of noise you're making.
15. When the pregame becomes your endgame...
You literally just sabotaged yourself. I guess that will teach you to pace yourself.
16. When you bring a person home, and he realizes how disgusting your room is...
I'm not sure why a guy would care that he can't see your bedroom floor or that your bed has clearly not been made in a week...
17. When you become obsessively passionate about something that's not cool...
So like, you don't enjoy discussing endoplasmic reticula? Loser....
18. When your credit card gets declined...
Don't you hate when that happens? I guess next time, I'll let him foot the bill.
19. When you start to dance, then cry to "Wagon Wheel..."
Let's save that rendition for when you're alone in your apartment.
20. When you lose your phone and can't think about anything else...
The video explains it all. No, seriously. Watch it. Right now.
21. When he reaches for your hair and pulls out your hair extensions...
Well, I guess that will save me some money on next month's appointment.
22. When you're Facebook stalking him before he even leaves the room...
Isn't it normal to want to see if you have any mutual friends with this newfound stranger?
23. When you reveal something you would only know from said Facebook stalk...
It happens to the best of us... Just sulk and walk away.
For more of her thoughts, humor and ridiculous opinions follow Ashley Fern on Instagram and Twitter.