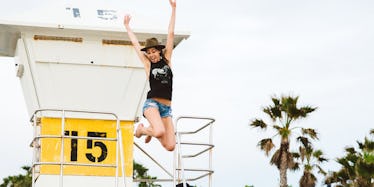 This Woman's Butt Selfies Were Banned From Instagram, So She Decided To Fight Back
Stocksy
Belfies have become a popular offshoot of the ever-present selfie trend — anyone who follows a Kardashian or Rihanna on Twitter has probably spent more time staring at those celebrities' cheeks than they'd care to admit.
But one woman who jumped on the belfie bandwagon was surprised when Instagram removed her image.
Meghan Tonjes (handle @meghantonjes) posted a picture of herself from the waistdown, featuring her rear end only slightly revealed by a pair of boyshort underwear.
Instagram almost immediately took the photo off the app, without citing what Instagram rules the image allegedly violated. Meghan, however, has her own theories: someone at the company, she said, was uncomfortable with the size of her ass.
No Jen Selter (and thank goodness for that), Meghan uses her Instagram account to post images of herself — her body, with all its imperfections — to show other girls that it's OK to look different from the models and celebrities and wannabes who flood the site with heavily-edited photos of their hot bods.
In a video commenting on Instagram's decision to remove her belfie but not the countless others, Meghan said she put up the image because she's proud of the way she looks, and wants to let other non-size zeros know that it's OK to feel the same.
I want you to think of how many big girls you see wearing bathing suits, lingerie, shorts, dresses, tight fitting clothing, who aren't openly mocked... And now you have the answer as to why a lot of who look like me — and by a lot, I mean not very many — post pictures of themselves showing their thighs or their stomach or parts that other women and other people show proudly and are never questioned on because that's what we're used to seeing and we're comfortable with that.
Thankfully, Instagram realized the error of their ways (and the hypocrisy tied to letting Selter have an account in which she only features her ass, while not letting Meghan have one measly photo) and restored the image. They also issued an apology to Meghan.
And now that Meghan is free to post belfies like everyone else, she said there will be plenty more uploaded to her account.
H/T: New York Daily News, Photo Courtesy: Instagram