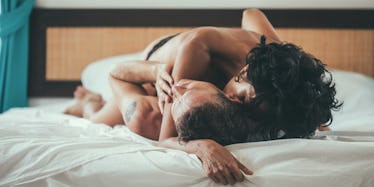 This Vibrator Looks Like An Electric Toothbrush From Hell And Promises 'Third-Level' Orgasms
Stocksy
Girl world is abuzz with a newly-released, gynecologist-designed vibrator, said to induce the "third level of orgasm" (um, does someone mind explaining to me the ones and twos?).
Although the reviews might be raving, this scarily-shaped vibrator looks like it would ravage our vagina (not in the good way, peeps) as opposed to providing any sort of pleasure.
So, um, maybe we'll just take your word for it. Because before spending $106 on this sex toy, we have to figure out what it looks like, first.
Strikingly similar to everything from a crab claw (filing this under: Things You Don't Want Near Your Genitals) to a boxing glove, I'd kind of want to see this unique design in MoMa rather than anywhere near my nether regions. You feel me, ladies?
Via: Huffington Post, Top Photo Courtesy: Ann Summers