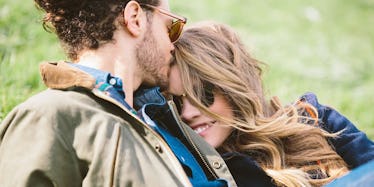 These Total Strangers 'Shine' By Getting Naked And Embracing Their Bodies (Video)
Stocksy
With nudity and elaborate costumes, this short clip has the makings for a popular HBO show.
But its motives are much more innocent than creating a TV series with a cult following — instead, the "SHINE" video seeks to empower women to accept their bodies and feel comfortable in their own skin.
In this NSFW clip, 10 total strangers "stop letting fear guide their decisions" and strip down to nothing to go on camera together.
The video, produced by The Goddess Project, shows these women that their beauty isn't predicated on their makeup or wardrobe choices; it's about being proud in their own skin.
The 10 women, naked in the wilderness with some seriously sultry body paint, talked about beauty and body image and agreed that only the individual had the power to project what confidence and beauty meant to them.
We have to stick together and empower each other in order to overcome all the negative stereotypes placed against us.
The women behind this short film's concept, Sara Landas and Holli Rae, said they hoped this experiment would encourage other women to recognize their true and inherent worth.
We were inspired to make 'SHINE' to help women move past their limiting beliefs of what is beautiful and powerful. We have both personally experienced the damaging effects of trying to fit into society's body image mold and we believe that every 'body' deserves to be seen and appreciated for their individual beauty, talent, and light. We hope that this film will inspire women to join together, overcome their fears, and see the power in fully embracing themselves and each other.
This video is a must-watch for a feel-good moment on your Friday.
H/T: Huffington Post