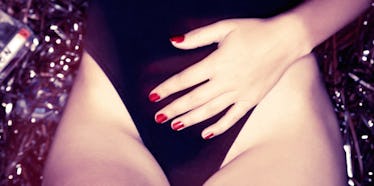 The Masturbation Playlist Every Girl Never Knew She Needed
Eldad Carin
Masturbation is healthy, girls. It's the key to learning about yourself. I'm so f*cking sick of people pretending that women don't need to get off. It relieves stress, it makes us happier, and it even makes our skin better.
Don't be annoying. Embrace. Get down with your lady bits. Be proud of your lady bits.
And have a masturbation playlist.
I know you've all been wondering where the f*ck your masturbation playlist from Auntie Gigi has been all this time.
No? You haven't?
Well, guess what? A masturbation playlist is very important. You need a go-to list of jams to get you going. Having music for your "me time" just further shows that touching yourself is nothing to be ashamed of or to hide.
"But, Auntie Gigi, why do we need an entire separate playlist for it?" you ask.
We have playlists for every-f*cking-thing else, don't we? Like, could I get myself off to my playlist of exclusively Lana Del Rey songs? Yeah, f*ckers, I could. But I'm not going to. And we are not going to make love to ourselves with our gym playlist or our "productive morning" playlist, either.
Since Valentine's Day is just around the corner, I figured now was a good time to drop a masturbation playlist on you. I comprised all of my favorite songs from my most incredible powerhouse females and soulful gents. I decided to name it "Va-Jay Jams," because this list really is an ode to your snatch. Your va-jay needs lovin' too.
From Selena to Death Cab, from Frank Ocean to Lady Brit herself, here is the ultimate masturbation playlist you never even knew you needed but needed SO much, carefully curated by yours truly. Love you all.
"Primadonna" by Marina and the Diamonds
This songs is for all of us neurotic princesses out there who really do just want to have our cake and eat it too.
My favorite line is "All I ever wanted was the world. I can't help that I need it all." Because you can't help that you need it all. When I listen to this song I think of Marie Antoinette-type glamour. It's the perfect thing to listen to when devoting time to the most important person in your life -- you.
"Soul Meets Body" by Death Cab For Cutie
This song has been speaking to me on a spiritual level since its debut in my middle school years. It's like running through a wild forest in a white pixie dress and jumping into a waterfall. When you're masturbating, you are literally at the place where soul meets body.
"Circus" by Britney Spears
This song is about being the unapologetic star of the f*cking show. If you're not masturbating to Lady Brit, I don't know what you're doing. All eyes in the CENTER of your ring just like a circus, AMIRIGHT?! Yas queen.
"Play" by David Banner
Now, this one really hits the whole "I am f*cking myself" notion of the playlist right on the head. It was actually a suggestion and not something I chose myself. It's a bit aggressive for my taste, but there's something here for everyone.
"Good For You" by Selena Gomez
Selena's songs go one of two ways: You either cry to them or you masturbate the f*ck out of them. "Good For You" happens to be a poppy, girl-power, no-f*cks-given anthem for making sweet, delicious love to your lady boner. It's very satisfying. I suggest trying this one after a long, sweaty gym session. *Puts in ear phones to play "Good For You" by Selena Gomez.*
"Practice" by Drake
Truth be told, the gentle cooing of Drake's vocal chords are enough to put a girl over the edge no matter the tune, but there is something so profound about Practice. It just kind of speaks to the heart. It's like Drizzy knew what was going on in your soul and just wrote lyrics to match. The whole song works because masturbation is about practice. It's about practicing loving yourself. Also, it helps is you imagine that Drake is between your thighs instead of your vibe. Just saying.
"Money On My Mind" by Sam Smith
A lot of Sam Smith's soulful AF songs are perfect for those long lonely walks or to sing (badly, sorry) in the shower, but you have to be more picky when it comes to masturbation music. You don't want one of his odes to lost love or power ballads about cheating. You want "Money On My (Muthaf*cking) Mind." The song is sexy. He knows what is up in this song. And it's you, b*tch.
"He Can Only Hold Her" by Amy Winehouse
Amy, Amy, Amy. RIP, Amy. He Can Only Hold her is a song about a strong, hardheaded woman who is very hard to love. She is wild and free.
He can only hold her for so long The lights are on but no one's home She's so vacant Her soul is taken He thinks "What's she running from?"
This is the song we all want when we're freeing ourselves of yet another f*ckboy. It's a song about reclaiming your identity. The heroine of the tune will never be pacified, and neither will you.
"Sweet Life" by Frank Ocean
Frank Ocean has the voice of a beautiful, sexy angel. He literally coos when he sings. Sweet life has these melodic, smooth chords that make you want to sway your hips and drink a glass of merlot. Which, incidentally, is about halfway to masturbation town. This guy knows women; you can hear it in his voice.
"Partition" by Beyoncé
Would this list really be complete if I didn't include Queen Bey? Partition makes me wanna f*ck someone every single time I hear it. It is so badass. She's like, "Hello world. I am the queen. F*cking off." You want to be her. You want to BE HER SO BADLY. If there is one thing you want to feel when you're going to town on yourself, it's confident, and we all know Beyoncé is confidence incarnate.
"Cola" by Lana Del Rey
Because your p*ssy tastes like Pepsi cola. That is all.
"Champagne Kisses" by Jessie Ware
The background music of this song is just plain sexy. When you hear it, you automatically think, "Bubblebath." She even puts kissing noises in it. Jessie Ware has this hot AF voice that just gets me going like nothing else.