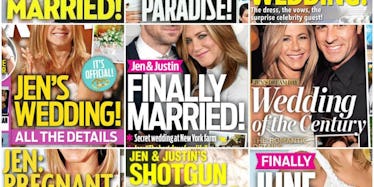 What Tabloids Really Talk About When They Talk About Jennifer Aniston
Fusion.net
Jennifer Aniston is so much more than the girl next door. In the media, she's become the poster child for how limited we are in the way we talk about women.
When the clapping, ear worm anthem of "Friends" first broadcasted to television screens in 1994, Aniston was 25 years old, barely past the legal drinking age. She played goofy, over-the-top Rachel Green, whose well-meaning urban escapades were relatable for twenty-somethings everywhere.
As the years passed, Aniston's haircut changed more than her character did. Rachel might've kept repeating the same mistakes, but Aniston was ready to embrace stardom.
In 1998, she cemented her celebrity status by taking her relationship with charmer Brad Pitt public. Like a pair of blonde Precious Moments statues, the aesthetically blessed couple made their glowing appearance on red carpets for years. They married in 2000, bestowing their love like a gift upon the new millennium.
Seven years later, however, Aniston and Pitt went the way of Britney Spears and Justin Timberlake. Nothing is sacred in the celebrity world, especially not when another woman gets involved.
At age 46, Aniston has spent nearly two decades — most of her professional life — as a tabloid pity party. Though the celeb-bashing tradition is not surprising, what we read about Aniston only reflects a larger problem.
Women shouldn't have to battle one another for success.
While filming 2005's "Mr. and Mrs. Smith," Pitt fell for bombshell costar, Angelina Jolie. It was the battle of Jackie Kennedy and Marilyn Monroe all over again, as tabloids pitted sweet Jen against sexy Angie. When it comes to headlines, few words sell magazines quite like "the other woman."
After nearly a decade of fertility struggles and very public affection, Aniston and Pitt went their separate ways early in 2005. And here's where the pair began to illustrate gender inequality in the media: While Aniston became an un-dateable pariah, press labeled Pitt adopted father of the year to Jolie's brood.
In her first interview after the divorce, Aniston told Vanity Fair,
I am not defined by this relationship. I am not defined by the part they're making me play in the triangle. It's maddening to me.
And yet, the saga is still alive and well — just look at headlines like, "Brad Pitt Thrilled That Jen Aniston & Justin Theroux Married."
It's 2015, people. Let's move on.
Being alone isn't the worst vice.
When it comes to Aniston's post-Pitt love life, it seems as if the star can't win. Whether it's the end of a months-long relationship with soulful pop guitarist John Mayer, ("Jennifer Aniston Warns Katy Perry: Dump John Mayer — Report") or co-star Vince Vaughn ("You Won't Believe What Vince Vaughn Has To Say About Ex-Girlfriend Jennifer Aniston!"), the media gleefully reports on each twist and turn of the star's love life.
But somehow, Aniston is rarely the protagonist of her story. Headlines paint her as the eternal victim, desperate for a love she can't seem to find.
In reality, Aniston's love life parallels that of the average, millennial woman: a few cheap dates, one or two relationships that don't last and a marriage you can't make work. Her story is far from atypical, yet coverage suggests she's a lonely spinster destined to adopt ten cats.
The message is clear: If you're alone, you must be lonely. Magazines have no time for the single woman, especially one cast as the romantic lead in her own life.
Family doesn't have to come before career.
When the saga of Aniston and Pitt hit print, several allegations from mysteriously unnamed "sources" close to the pair claimed a large part of their split was due to family planning.
In short: Aniston wanted to work on her career and save time for having children later, while Pitt wanted children immediately. When they couldn't agree, the narrative had Pitt eloping to play father to Jolie's adopted children. Reading in between the words, it seemed as if press shamed Aniston for her choice to put her own goals ahead of raising children.
In the years that have since passed, many a lead sentence has pointed fingers at Aniston for her "desperation" to have a baby (See: "Jennifer Aniston Is Pregnant At Last!") and ("Jennifer Aniston Did Not Adopt Baby Girl, Despite Report"). It's as if a legion of gossip columnists shake their heads in perfect synchronization, chiding the star for not reproducing when she readily had the chance.
Not all women desire to procreate, and that's a choice we should be allowed to make. Children aren't for everyone.
Being a lady doesn't mean talking about what's on your plate.
There's no official statistic on this, but Jennifer Aniston seems to be a celebrity most frequently pestered about her diet and exercise routine. Sometimes, she claims an 'everything in moderation' standpoint — see: "Jennifer Aniston: 'I Started to Enjoy Life a Little Bit More.'" Occasionally, however, she dishes on her five meals per day and equal amount of workouts.
Fitness isn't the problem here; it's the fact that Aniston rarely gets asked anything other than how to copy her enviable body and soft, blonde tresses. When her drama "Cake" was released last year, few words were wasted on the plot. Instead, the emphasis was placed on what Aniston's face looks like with minimal makeup or care, as in US Weekly's "Jennifer Aniston Calls Going Without Makeup in Cake 'Dreamy and Empowering and Liberating."
Ask Aniston about her ambition, hobbies or friends, but not diet. This financially independent, famous woman deserves a little more than talk about perfect portion size.
As the rest of the world embraces feminism and moves forward, it seems as if Aniston is stuck in an unending loop of interview questions dated from 1952. As she enters a new marriage to actor Justin Theroux, and middle age, now is the time to reexamine the way we question our female celebrities.
#FreeJen. After all this time, she certainly deserves it.