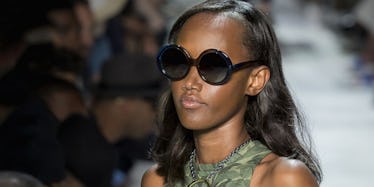 Style Superlatives: Best Celeb Sunnies On And Off The Runway (NYFW)
If you're only paying attention to the designer clothes at New York Fashion Week, you've missed half the show. While photographers rush to zero in on street style, we prefer to focus on the face.
The clothing (and budget) at Fashion Week is luxe, but the sunglasses are just as incredible. As long summer days become fall evenings, it's certainly important for each A-list celebrity to grab a pair of sunnies before heading out the door and onto some photographer's Instagram feed.
Although we may not be able to afford designer offerings, we love to be inspired by the fabulous (and ridiculous) looks worn by front row stars.
Most likely never to own up to that nose job:
Fashion designer Rachel Zoe might've made a name for herself as personal stylist to women like Nicole Richie, but her real skill set lies in the art of drama. At the Diane von Furstenberg show, Zoe broke out a pair of her trademark oversized sunglasses that look as though she's living at dusk every hour of the day.
Oversized frames are perfect for covering up unwieldy forehead pimples or severely plucked eyebrows. Take a page from Zoe's book, and let your accessories speak louder than your attitude.
Most likely to work with your "Charlie's Angels" group costume:
The fashion industry's most in-demand models travel in packs of lanky glamor, so it's no wonder Kendall Jenner and Gigi Hadid are so in sync, they even coordinate looks. The pair serves attitude in colored lenses and classic shapes -- Jenner further proves aviators always ooze cool-girl appeal.
If you're planning a girlfriend group costume this Halloween, use Jenner and Hadid as your inspiration. Their coordinated but never matchy-matchy look allows each of you to feel like the star of the show.
Most likely to block out all the haters:
Those in the know understand the real star of Fashion Week is Anna Dello Russo, former editor-at-large of Vogue Japan. Her outrageous style and designer wardrobe lends itself to street style photography unlike any other. This particular pair of shades allows paparazzi to appreciate her outfit while keeping flashbulbs off her face.
These mirrored, oversized shades are the perfect accessory to a hungover workday. No one will even suspect that your head's throbbing so hard it feels as if you hit yourself over the head with a bottle of vodka.
Most likely to give off sexy secretary vibes:
Round spectacles are the fashion set's favorite new accessory this season, and it's not difficult to see why when they're resting atop the perfect nose of Chiara Ferragni. The blogger, best known as The Blonde Salad, showed off her circular frames while casually strolling in front of a taxi over the weekend.
While these frames can be a little professor-like without the appropriate wardrobe adjustments, we love them as a natural replacement for the coy cat-eye frames that were so popular in the last few years. Pair them with an extra-thick book, and prepare to be mistaken for Marian the Librarian.
Most likely to be head cheerleader in a '90s teen movie:
No matter the season, locale or the time of day, one thing's for certain: You'll never see Rita Ora in the same look twice. For today's Jeremy Scott show, the Euro pop diva went for an "I Dream Of Jeannie" ponytail paired with bulky aviators that seemed a little steampunk.
Maybe it's the platinum hair blinding us, but these sunglasses seem best suited for the mean girl queen of a teen comedy. Perhaps Regina George is looking for a new pair of shades.
Most likely to get you mistaken for Willy Wonka:
Eva Chen, Instagram's head of fashion, pulled out all the stops this season with a pair of black and white spectacles just rad enough for the fictional Chocolate Factory magnate.
Fall doesn't mean toning down your style, and these Laura Imami frames provide a splashy piece for a day party. While everyone else tries to pound back another beer, you'll be looking chic and put together in your statement frames.