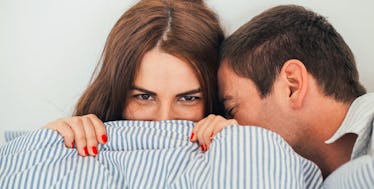 Just Eat Your Damn Food: The World Doesn't Need Photographic Evidence Of Your Every Meal
Stocksy
Are you a food blogger? Last we checked, you work as an Assistant Buyer for Bloomingdale's and wouldn't know good food if you were sitting at a table with Jean-Georges Vongerichten himself. So why are you snapping photos of your meals like it's J.Lo with her kids, and you're the paparazzi? Just because you watch 'Top Chef' and The Food Network while running on the treadmill, it doesn't make you a dietary expert.
Please people, we need to stop overpopulating our Instagram feeds with pictures of food! If we want to see the gnarly plate of yellowfin tuna crudo with pickled rhubarb and jalapeño vinaigrette you ate last night, then we'll follow @ImmaculateInFat, not Mr. Amateur Hour at the Paula Deen test kitchen.
Seriously, the amount of photos we've seen with girls posing next to an Artichoke Pizza slice or Big Gay Ice Cream with their mouths open wide, looking like they're about to devour (God forbid!) the entire thing, is absolutely atrocious.
We're pretty sure that we've either A) Been to all those places, and therefore already know what the truffled French fries with spicy chipotle mayo taste like and don't care that you are eating them now, B) Aren't there, can't taste a photo, and therefore don't care about viewing it, or C) Aren't about to applaud the fact that you are going to imbibe an entire Momofuku crack pie (although, we would definitely cheer you on at a Dinosaur BBQ wings eating contest, absolutely).
The food porn photo shoots have gotten grossly out of hand. We're happy that your significant other took you to Shake Shack, but the picture of you two eating from the same burger is making us nauseous, in more ways than one. Probably the only image that we actually delight in is the one of that b*tchy girl from our sorority making "nom nom" faces as she's engaging in some serious business with a bacon, egg and cheese and homefries (keep eating, girl!).
What's even worse than being proud of your bold meal pic? Being ashamed of it. If you're not pleased that you just inhaled an entire Magnolia cupcake, then why are you uploading a snapshot of it to Facebook with the caption, "Being naughty today"? If you want to be 'naughty,' show us a shot of your new motorcycle ankle boots, not your feelings on a plate.
Just because we "like" your snap of the Meatball Shop, does not mean that we are validating your emotional binge eating. Justify consuming that fresh chopped salad from Sweetgreen by texting your group chats. Don't disrupt our homepage as we're trying to check on more important things like puppies of the day, our friend posing in the bathroom of Finale and our favorite memes.
Listen, we're not going on a tirade against you sharing meaningful images of yourself. We love virtually watching you blow out the candles on your birthday torte -- it makes us feel as if we are there celebrating with you. What we don't love is the close up of the layers in your mille-feuille cake. Congratulations, you turned twenty-six and rejoiced by stuffing face! Welcome to the club!
What's more is that most chefs don't enjoy having their Picasso food masterpieces photographed for public consumption – they don't want the dining surprise to be ruined for everyone else. The point of going to a hyped restaurant is the experience of trying new flavors and being excited by the presentation. By uploading shots of the famed restaurant beforehand, you're spoiling it for everyone else. It's like telling all of Twitter how 'Homeland' ends. Not cool, refrain from sharing.
Not gonna lie, we're kind of jealous that you got to go to Carbone and shell out $50 for a piece of veal parm. But, please don't rub it in our faces unless you plan on inviting us next time. And, let's be honest here, we all know it's either going down the toilet or to your ass post-consumption, so the glory of posting it is only fleeting.