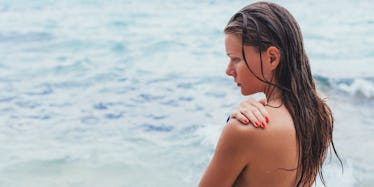 Every Girl's Winter Struggle: How To Embrace Your Puffy Coat
We've tried to put it off as long as possible, but the time has finally come to wear our puffy down jackets.
These coats are pretty much the enemy. They prevent you from moving smoothly through the subway turnstiles. They take up precious space on the backs of chairs.
They make raising your hand nearly impossible. And finding the bottom of the coat to zip yourself up is one of the more difficult parts of winter, especially while wearing gloves.
Hashtag cold weather problems hashtag.
One fine morning, after months of wearing your charming pea coat, suddenly the weather has dropped to below 38 degrees
You knew this day would eventually come…
The Return of Your Puffy Coat!
Huzzah!
You wish you looked this fashionable in it…
…That's more like it
and that…
You try to make The Puffer sleek by belting it
Trendy!
Look, Ma! I actually have a waistline under all these down layers!
Or putting your hands in your pockets
Good one!
Strike a pose and get funky with it!
But you still look like a blown up trash bag
See the resemblance?
Tumblr
Or this…
The problem is…
It's just too fluffy!
But it's the warmest option without fail
You know that it's better than freezing.
So you wear it anyway
How many birds had to die so that we could look this good?
Let's take a fashion cue from Missy Elliot
She rocked the look in her music video "The Rain."
…As long as we don't look like this
Reddit
Not Miranda's best day.
You could be wearing the cutest outfit underneath and no one would know…
Tumblr
Because it's just too puffy!
Puff, puff, pass the coat
…We couldn't resist.
One day, we'll be able to afford one of these and we'll never have to wear a puffy jacket again!
Fur (faux or otherwise) = warm and fashionable.
Until then, it's time to embrace the puff
Top photo courtesy of Tumblr