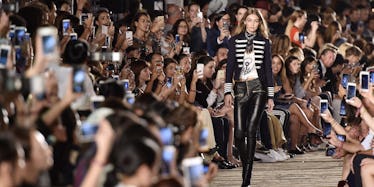 5 Social Media Accounts To Help Relieve Your Fashion Week FOMO
REX/Shutterstock
Do you suffer from FOMO because of New York Fashion Week 2016?
Is a Snapchat filter just not enough for you die-hard fashionistas who couldn't technically make it to New York Fashion Week? Can't shake the feeling the NYFW livestream isn't the same because it doesn't cover the VIP, invite-only and see-and-be-seen after-parties?
Well, thanks to social media and the power of the internet, it is like we are *almost* there and can live vicariously through the attendees.
Dr.'s orders: Take a look at this list of five social media accounts you need to be following to get your daily dose of New York Fashion Week pop culture.
1. Catt Sadler
Aside from being E! News' top reporter at NYFW, this trendy lady also has some serious style on social media. With a lifestyle website called TheCATTWALK.com, you know she's going to serve up serious fashion #GOALS.
Sadler's Snapchat is the real kicker, though. On Snapchat, Sadler brings you live to her interviews, which include selfies with Kylie Jenner, getting glammed with her glam squad early in the morning before the fashion shows and her nights out at all the parties.
Sadler basically gives you a play by play of NYFW.
Instagram: @iamcattsadler Snapchat: cattsadler
2. Carly Cardellino
Carly Cardellino is the senior beauty editor at Cosmopolitan, so you already know she is going to have the inside scoop on all things beauty at NYFW. You may recognize her white blonde hair and unique style that seriously cannot be defined from Cosmo's Snapchat story from time to time.
Head on over to her Instagram or Snapchat for sneak peeks at NYFW.
Instagram/Snapchat: @carlycardellino
3. Morgan Stewart / BoobsandLoubs
Her title as "Rich Kids of Beverly Hills" reality star pretty much explains it all. Her lifestyle blog and social media feeds may or may not be everything, depending on if you want a socialite's perspective at Fashion Week.
Stewart began documenting her experiences, beginning at wheels-up, en-route to NYFW on her blog BoobsandLoubs.com, where she writes about things like the anxieties of picking out the right outfit and turbulence on planes.
Stewart said to expect A LOT of activity from her NYFW coverage, that is if she ever finds the perfect look. #FirstWorldProblems #TheStruggleIsReal
Snapchat is where the real inspo begins, though. Stewart takes you to her nights out after the shows and events, tells you what she's wearing, documents some NYC taxi cab rambles and brings you right back to the morning #StruggleBus from her hotel room with a *stunning* view of NYC.
Instagram: @boobsandloubs Snapchat: boobssandloubss
4. Zanna Roberts Rassi
With a resume that boasts titles such as senior fashion editor at Marie Clare, E! correspondent, mentor on "Project Runway" and co-founder of Milk Makeup, NYFW is, of course, this fashionista's bread and butter.
Check her Instagram feed, and you'll see photos of her interview with Kendall Jenner, selfies with model Nina Agdal and her casually wearing a Cartier snake encrusted with 2,400 diamonds from her tour at the new Cartier boutique in New York City.
Among all the chaos, Rassi still manages to post about her tots first day of school. Can you say super mom?
Instagram: @ZannaRassi
5. Damsel in Dior
Imagine your Pinterest board, but in real life. Jacey Duprie, aka @damselindior, is also a lifestyle blogger. But take a stroll to her Instagram feed and check out each one of her looks from NYFW, where she even links to where you can shop her #OOTD at liketoknow.it.
Instagram: @damselindior
Relive everything you've missed and enjoy the last few days of New York Fashion Week by living vicariously through these accounts!