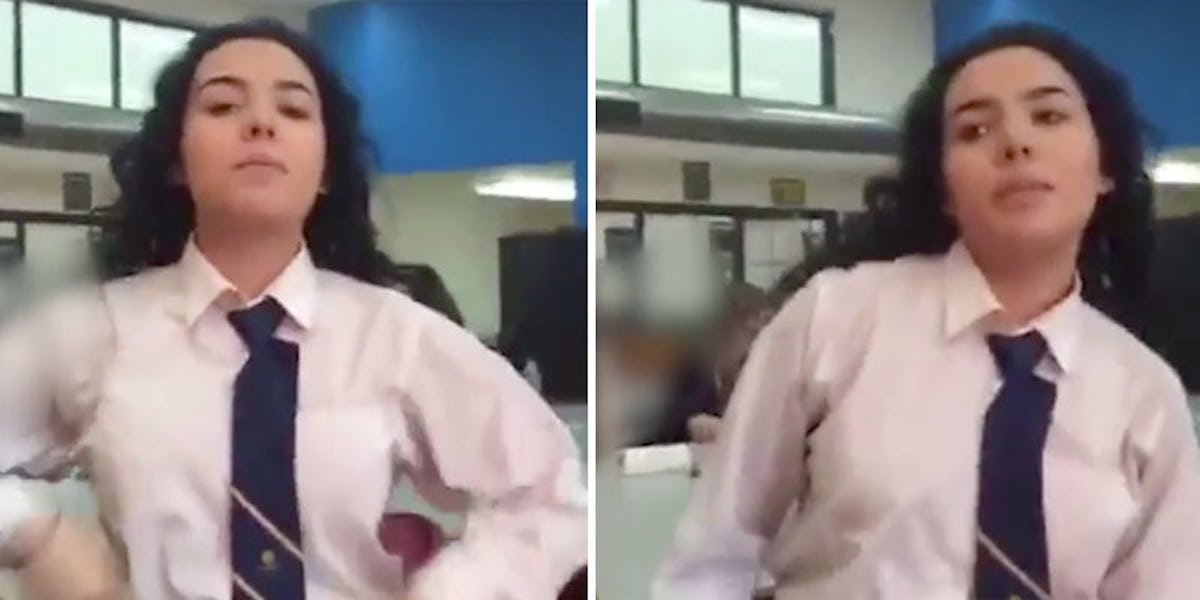 Teen Slams Sexism After School Tells Her To Wear Longer Skirts And No Makeup
Facebook
Back in high school, I was always getting in trouble for my slightly-too-short Abercrombie denim skirts.
It was always the same: You'd get called down to the principal's office, and they would tell you to rest your arms along your sides.
If your skirt was shorter than the length of your arms, it violated the school's dress code policy, and they would either let your parents bring you a new outfit or force you to wear something from the lost and found for the rest of the day.
Since I have a pretty disproportionate limb-to-torso ratio (I have super long arms and legs, paired with an extremely short torso), I always felt that the whole arm measurement rule was especially unfair.
It turns out I'm not the only girl who's experienced some school-related skirt struggles.
Faith Sobotker, a student at Kambrya College in Melbourne, Australia, was one of the many girls recently called into an assembly on Thursday afternoon that instructed students to stop wearing makeup and taking provocative selfies.
If that's not bad enough, administrators also told the girls their legs were a distraction to boys and that they would lose respect if their skirts were any shorter than knee-length.
Apparently, Faith was not a big fan of the school's "slut-shaming" tactics, so she decided to take a stand by delivering a pretty badass speech to her fellow classmates.
Sobotker stated,
No matter how I present myself, I am confident and I am comfortable. My self-respect is doing what makes me happy. When I am hungry, I eat. When I am thirsty, I drink. OK, I have self-respect. I look after myself. You can't tell me what self-respect is, what ladylike is, because we don't live in the '50s anymore. I am looking for equality. I am looking forward to being able to show off my body without being sexualized. I am 15 years old. You do not get to sexualize me like that, you do not get to tell me that my body is sacred because it isn't.
The 15-year-old student conveyed a strong message that touched upon a variety of women's issues, including sexism, slut-shaming and gender equality.
She concluded her speech with one final remark, saying,
I want to know that this school has raised a society of people who treat each other with equality, with respect, no matter how they dress, how they have their hair, no matter they wear their makeup.
Check out the video for a closer look at Faith's inspiring speech.
Citations: Year 9 girl hits back at short skirt haters with the perfect response (Metro UK)