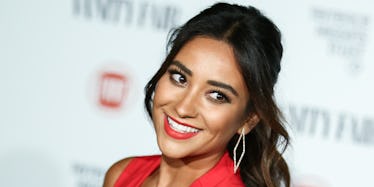 Shay Mitchell Proves Switching Up Workouts Is The Way To Get A Killer Body
REX/Shutterstock
Being stuck at the gym might as well be the seventh circle of hell.
Somewhere around mile three on the treadmill, running seems more like paying penance than treating your body. You start to wonder if your torment will ever end.
But, that's what we've been raised to believe exercise should be: torturous. It's only in the last few years that attitudes toward exercise have shifted. Finally, trainers are starting to understand fitness should be part of a lifestyle, not just meaningless solo attempts to lose weight and tone muscle.
If there's one person who really understands this philosophy, it's "Pretty Little Liars" star Shay Mitchell.
In a new interview with SELF, the 29-year-old bombshell explains she stays fit by consistently mixing up her workout.
Instead of chaining herself to the elliptical or spin bike, Mitchell tries a wide variety of activities to keep her body toned. Over the years, she's tried everything from Muay Thai and Krav Maga to a plain old afternoon hike with friends.
She tells SELF it's all part of maintaining a consistent fitness routine. Scheduling sweat sessions at least a few times a week is easier if every day is a little different.
Mitchell elaborates, saying,
I like to switch it up so I don't get bored. Sometimes I'll just go to the UCLA track and run up and down the bleachers.
Oh, casual. That's also what I do when I'm feeling bored. Netflix and solo chill absolutely never comes into play.
Mitchell is also a proponent of using what you already have. In this case, it's a couch and stairs.
In January, Mitchell told Cosmopolitan she's been known to prep for photo shoots by adding in sets of tricep dips off her couch or sprinting up and down her own steps.
She continued,
You can get a skipping rope and go outside for 10 minutes. You'd be surprised by how many calories that can burn.
Although Mitchell has the advantage of calling on celebrity trainers like Gunnar Peterson — best known as the man who built Khloé Kardashian's butt — and Harley Pasternak, her dedication to workout roulette is something anyone can emulate.
Not only will trading in your Wednesday night kickboxing class give those quadriceps time to rest and heal (every time you work out, you're creating micro-tears in the muscle and making it stronger), you're using totally different muscles.
Take a note from Mitchell and her toned shoulders. Give something new a try.
Citations: Shay Mitchell On Life After 'Pretty Little Liars' (SELF)