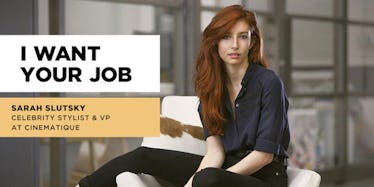 I Want Your Job: Sarah Slutsky, Celebrity Stylist And VP At Cinematique
Sarah Slutsky
Featured among Vogue's top 10 most-shared stories this past year is a write-up on Emma Watson, an actress all Millennials seem to swoon over.
She makes the list, but not for any movie she's done or her humanitarian work. It's for her outfit.
The story is titled "How Emma Watson Does Ladylike Beauty — With a Laid-Back Edge." The author lingers over Watson's undone, yet perfect hair and her subtle, but captivating makeup. It's an outfit so perfectly "effortless" it seemed as if it was just lying on her bedroom floor.
Slutsky, 28, embodies the actress' style better than Watson herself. When we meet at her office in downtown New York City, she looks straightforwardly chic. I start to study her outfit head to toe, like a sartorially-challenged anthropologist.
Today, she went for a black turtleneck, brown houndstooth blazer combination.
"I used to have a problem with brown," Slutsky says with a laugh. "But I think I'm getting over it."
Slutsky completes the outfit with a pair of frayed, loose-fitting Levi's. She vows to wear them 30 different times, documenting the outfits on Instagram in an effort to highlight the sustainable fashion movement.
Slutsky wants to combat the "fast fashion" dominating the market today. The system, built by stores like H&M and Forever 21, manufactures clothing quickly and inexpensively so the consumer can buy current trends at bargain prices.
Basically, brands sell $10 dollar sweaters shoppers buy in bulk, only to be thrown away a month later.
"Maybe it's because I'm growing up," Slutsky says. "But, I'm learning how specific choices lead to an impact on our global community."
When styling, Slutsky thinks about how the outfit will look on screen. She looks out for the way it moves on camera and whether or not it will resonate with people viewing the outfit from phones and computer screens.
This tech-savvy attitude stems from Slutsky's other gig as vice president of experience at Cinematique. The startup aims to make shopping easy by creating touchable videos that save your interests and offer up product links to buy through Cinematique's app.
Slutsky lights up when I ask about the project.
"What I'm doing is pretty atypical," the Chicago native says. "Styling is an incredible part of my life, but ultimately I'm trying to be part of a changing space. I hope that space encourages interaction and presentation and a better experience for people."
When swiping through a video, it's easy to get caught up in the fun. On the app, you don't merely touch on clothing and accessories. Buildings and props around the video are fair game, as well.
"You touch on the location, you see visual images, learn where it is. You can touch a hotel, book a stay and the next thing you know you're there," she says.
Slutsky credits her journey into the tech and styling world to the many internships she undertook as a University of Cincinnati student. The program at her alma mater required six internships before graduation.
This meant an opportunity to live in New York City, where Slutsky always dreamed of living.
"I spent my time connecting with people and asking the right questions, so when it became time to find a job it was my full-time job," Slutsky remembers.
After graduation in 2010, she quickly landed a gig at Vogue. The magazine is arguably the most coveted workplace for fashionistas. As a part of the editorial team, she sat between the editors and the marketing team to help shoots come together.
Slutsky never took her job for granted, creating relationships with coworkers, designers and stylists who could help her grow a fashion network.
"I learned so much there. It's the type of place where you look around and see so much," Slutsky says. "The logistics of planning shoots, meeting deadlines and balancing so many things at once. I was thinking creatively even at the very beginning stages [of a story]."
After two years at the established magazine, she decided to leave. It was a bold move, as Vogue is usually the ultimate end goal for those seeking a career in fashion.
"I loved Vogue, I could have stayed for a really long time," she recalls. "I was just inspired, I felt like taking a risk. It was time to do something else."
In 2013, Slutsky sat at a café, trying to find other alternatives. As she struggled with the WiFi connection, a man approached her to help. They got to talking, and he told Slutsky about an exciting new tech startup he was co-creating called Cinematique.
"In the touchable video world space, the first instinct is to see that [Cinematique] is a shopping tool," Slutsky says. "That's 100 percent true. But what really resonated with me was the storytelling."
Slutsky wanted to join the team right away, but she knew it would take a while for the company to make headway, and she needed to pay her bills.
Ever the networker, she reached out to her old supervisor at Vogue in order to connect with a few people who could get her into styling.
While it's only a part-time job for her now, Slutsky still loves the collaborative aspect of styling. It's not only about her taste, but also about how the clothing makes the client feel.
"Being a stylist, I know it's not about me. I have a personal style that's interpreted through what I wear every day," she explains. "But as a stylist, you're working for somebody else. You have to stop your own voice. If I don't remember it's about someone else, I won't feel I'm doing my job."
Lucky for her, Emma Watson seems to share Slutsky's overall style aesthetic and passion for sustainable clothing. Together, the pair chooses designers who ethically source materials and create clothing in environments safe for garment workers.
Recently, the pair participated in the Green Carpet Challenge, a movement dedicated to thrusting sustainable style into the spotlight at the world's most high-profile events.
"I don't expect anyone to be perfect," Slutsky says. "But I think we can all make good choices and strive to make a change."
Slutsky's eye for creating unconventional and timeless looks -- see Watson's red-dress-over-black-pants ensemble at last year's Golden Globes -- landed her a spot on the Hollywood Reporter's 2014 Top Power Stylists list.
"I've been really fortunate to work with cool women who do really great things and have a strong and positive voice. I'm inspired daily by the clients I have," Slutsky says.
While Slutsky understands the hype over shows like "Fashion Police," that critique every detail of a star's outfit, she doesn't focus on trends when it comes to finding the perfect outfit for her clients.
"It's important that we use clothes as a vehicle for how we feel," she explains. "Fashion is at its best when it's making the wearer feel confident."
Though Slutsky's not big on trends, I still ask her about what she's loving right now. She's super excited about easy, velvet slip-dresses and imperfect hair and makeup.
"It's always about a feeling, not a trend," she explains. "Trends come and go, but within them there's always something timeless."