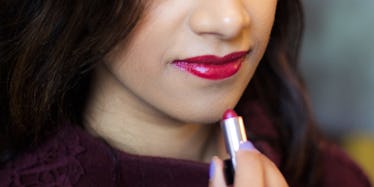 The 6 Shades Of Red Lipstick Every Olive-Skinned Girl Needs To Own
I've spent my entire young adulthood looking for a red lipstick. And not just any red lipstick, but the right red lipstick.
See, I have olive skin (a friend once described me as a "caramel mocha cappuccino"), and every red lipstick I've ever come across has made me look like a clown.
Wearing lipstick seemed like a necessity for me, because I've always been insecure about my naturally mismatched lips. With dark skin comes darker lips; instead of pink, my lips are more of a deep burgundy color, and my upper lip just so happens to be much darker than my lower lip.
It turns out dark-skinned girls have more melanin -- that thing in your skin that determines what your natural pigment is. Melanin was messing with my lip dreams, though.
I remember the first time I fell in love with a beautiful, bold red. I was walking down the street in Manhattan when I breezed past a leggy blonde woman. She was hazel-eyed and had this porcelain-pale skin, complete with dainty freckles. Her hair was a curly, tousled, fabulous mess. And she was wearing bright red lipstick. This woman embodied pure Hollywood glam.
But I knew how different that same red would look on me. I couldn't recreate that look because I didn't look like that. In fact, I couldn't look any more different; with dark hair, eyes and skin, I was her polar opposite.
Still, I figured my leap into womanhood warranted a successful scout for the right red. On my 21st birthday, I walked into a MAC store and asked one of the makeup artists to do my face. I looked like the Joker from "Batman" when she was done with me. The red she chose was clearly not for my skin color.
Finding the perfect red lipstick for my outcast pair of lips was proving to be difficult.
Why couldn't I rock Hollywood glam? Was I resigned to boring nude lips for the rest of my life?
Luckily for me, two of my favorite beauty editors hooked me up with some awesome red lipstick samples from some of the most legit brands out there. I fell in love with a ton of them. It's all about who makes the red and what undertones the red has.
My fellow olive-skinned beauties, here are my favorites.
When it comes to true red, Urban Decay wins.
First, I tried on Urban Decay's F Bomb lipstick. It was creamy and didn't dry my lips, with a bit of a plumping effect.
But that color is what really sold me. It's the kind of red I'd been searching for when I walked into the MAC store that day. It's classic but not clownish.
I'll be wearing this one when I don't have to drink or eat throughout the night, because it wears off more easily than a matte.
Revolution Lipstick in F Bomb, $10, Urban Decay
Next was the mega matte shade 714, from Gwen Stefani's collection. This one takes the cake for my favorite red.
Gwen knows how to make a killer matte. I used to think only dark reds would work for my skin tone, but this one looks as bright and bold on me as it does on Gwen.
Because the red makes a statement on its own, I plan on pairing it with a simple outfit, like all white or black. Just make sure to hydrate your lips before applying this matte.
Urban Decay Gwen Stefani Lipstick in 714, $27, Amazon
Orange reds are best when they're from Hourglass.
OK, I am officially obsessed with orangey-red lipstick. In theory, orange on brown sounds like it'd be heinous. But it works. The key is to finding an orange that's unapologetically fruity and bright; it's not a nude orange, it's an orange with red undertones.
Raven liquid lipstick by Hourglass is creamy and feels heavenly on my lips. It isn't as bold as F Bomb or Gwen, but gives my lips life and vibrancy. I'll go for this one when I still want to play up my eyes and not have the full focus on just my lips.
This lipstick would run the risk of washing out fair skin, but not olive.
Hourglass Opaqiue Rouge Liquid Lipstick in Raven, $28, Amazon
Hourglass's Riviera is my favorite orange lipstick. It goes on smoothly and stays on pretty nicely, too.
It's so fun and youthful that it's hard not to love. This is another one of those lip colors that really makes a statement, so I'd go easy on the makeup elsewhere. It's a great one to transition from day to night, too.
Hourglass Opaque Rouge Liquid Lipstick in Riviera, $28, Amazon
For pinky reds, I turn to the celebrities.
Liquid Lilly, a shade from Salma Hayek's Nuance brand, is more pink than it is red, but it gave me a soft, super-feminine look that others didn't.
The gloss hydrates to the max, making me feel like brown-skinned Barbie. I wanted to go home and throw on a tutu or ballet slippers. We all need days like that, and we all need a lipstick like this.
Nuance Salma Hayek True Color Plumping Liquid Lipstick in Liquid Lilly, $10, CVS
"Slumdog Millionaire" leading lady Freida Pinto collaborated with L'Oreal to create a lipstick exclusively for brown-skinned women. She seems to have understood my struggle pretty damn well, because she hit the nail on the head with her fuschia-red shade.
Freida's Red brightened up my face, but was still bold enough to give off that classic look.
L'Oreal Paris Colour Riche Collection Exclusive in Freida's Red, $7, Amazon