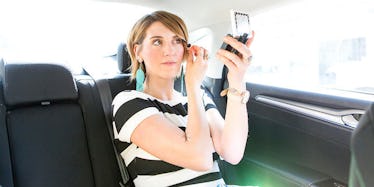 This 5-Minute Commuter Makeup Routine Makes Last-Minute Beauty Super Easy
Brit + Co
At one point or another, you've probably found yourself applying makeup during an early morning public transit commute.
It's never an ideal situation, but a necessity on those days you hit snooze one too many times. I've observed many people executing this task, including a woman applying mascara in a crowded train. Mind. Blown.
There are a few morning routine tips and tricks I find extremely helpful for moments when you're in a commuter-beauty bind.
I even took a day to travel throughout San Francisco, making sure this routine was possible on every form of public transportation. Read on for three game-changing hacks and some words of advice for doing your makeup on the go.
First, strategically pack your travel beauty bag.
Pack: Stick foundation Stick concealer Stick bronzer Stick blush Stick shadow Dual-ended brow pencil Mini mascara Eyeliner Lipstick/lipgloss Compact powder (with mirror) Hand sanitizer Tissues
For my travel makeup bag, I used TrèStiQue's Essential 8 Set, which you can customize with colors suited for your skin. This particular kit is my go-to because each product comes in stick form, ideal for travel.
You'll want a travel-size mascara, as it's easier to hold while in motion. I love my Benefit Roller Lash Mascara Deluxe Mini. Finally, get a two-for-one by packing a powder compact with a mirror and brush built in.
Public transportation is convenient, but atrociously unsanitary. Make sure you have a hand sanitizer at the ready before diving into your routine. You'll also want to have tissues to wipe your fingers between products.
Nail your 5-minute commuter face.
After you've sanitized your hands, apply your foundation, followed by concealer and bronzer. Blend gently with your fingers. The TrèStiQue set I have actually has built-in brushes on the other end of each product, which is super clutch.
Get a glow by adding blush to the apples of your cheeks. Note: I saw three different women on the train doing their makeup while shooting this tutorial. The struggle is real.
Don't skip your brows just because you're on the go. Instead, choose a moment while you're waiting for your ride to apply them.
Eyeliner can be a scary thing when you're moving, but you can get it done. Make sure you're at a standstill or in very slow motion before getting to this move.
Apply mascara with caution. Having the travel size really does help you control the wand.
Apply your face powder after exiting your station.
The lighting is often insane on public transportation, so you'll want that final step done in natural light where you can make sure everything is blended and in place. Finally, add your lips, and voila! You're fresh faced, glowing and ready to tackle your day.