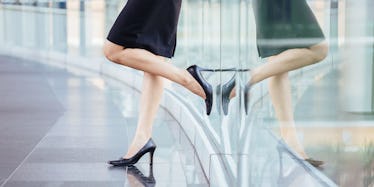 I Was Forced To Wear High Heels To Work And Here's Why No Job Is Worth It
michela ravasio
There has been a lot of talk about high heels and the feels in the media this week. Let me backtrack: There has been a lot of talk about high heels and the BAD feels this week.
It all started when 27-year-old Londoner Nicola Thorp told the BBC that she was sent home from her temp job because she was wearing FLATS.
Were they scuffed, dirty Converse? Were they beachy flip-flops? Nope. Not only was Thorp dressed head-to-toe in professional attire, but her feet were adorned in "smart, flat shoes."
After being checked out by management, Thorp reported to BBC Radio that she was instructed to go out and get a pair of shoes with a "2-to-4-inch heel." She was expected to work a nine-hour shift with the arches of her feet mangled in pumps. When she asked if her male counterparts were expected to do the same exact job in heels, she was laughed at.
Because it's SO FUNNY that a young woman is expected to withstand a 9-hour day with torture devices strapped to her feet while the boys get to comfortably go about their days in the reasonable, flat shoes the desire. Hilarious, isn't it?
And then came the bloody foot incident.
In a Facebook post, freelance makeup artist Nicola Gavins posted a picture of her friend's bleeding feet after she'd been waiting tables in heels all day at Joey Restaurants in Edmonton, Canada.
Despite losing a toenail after her shift, the friend was still told by management that heels would be required the next damn day. So I guess bleeding feet and a missing toenail are not enough to convince management that forcing a woman into heels is inhumane?
Both of these stories brought me back to a time in my life where every single day I hobbled home from work, hardly able to walk after 10+ hour days with my size 8 feet forced into stiff pumps.
Seven years ago, I left New York City and headed to my other country of citizenship: England.  I was just 24 and ecstatic to be in a new city: London, to be specific. I was also super-excited about my new gig: I'd scored a coveted job in a world-famous luxury department store, on a world-famous London street, in their world-famous beauty hall. I was working at the makeup counter for a cosmetics company I had been a successful makeup artist with for years in America.
Before my first day, I was pulled aside by the perpetually frowning, male manager of the beauty hall and told: "It's required that all makeup artists wear black pumps of at least 3 inches in height on the shop floor." I could tell by his tone that there was zero room for negotiation.
As a makeup artist at a cosmetics counter, you are standing on your feet, on a hard floor, for approximately 10 hours per day.
You're dealing with people's deepest insecurities, while maintaining your artistic integrity, while hitting an incredibly high sales quota every single day. The hours are incredibly long. The standard is incredibly high. You're dealing with clients from all across the world, all with very specific ideas of beauty and fashion. You're selling thousands of dollars of merchandise in a day. You're running around, chasing clients down and restocking products. Not to mention, you're dealing with seven different international currencies.
I was suddenly expected to do all this while teetering in pumps.
I had been in this industry for a long time in America, and flat boots were the industry standard. Not patent leather high heels.
And look, I'm a heels girl. I love wearing heels. I like to embrace my inner vixen and strut around in 5-inch heels when I'm on a date or going to a 2-hour dinner. Well all have different ways we like to feel sexy, and I happen to feel sexy in heels (and if you say it's because I'm trying to please a man, you're sorely mistaken as I'm as gay as they come).
But never in my entire life had I been forced to wear heels, nor would I ever choose to wear them in a job that is all about focusing my energy into making other women feel beautiful. Being a makeup artist isn't about the way YOU look, it's about the client.
I was miffed, but on the first day of work, I dutifully twisted my feet into a pair of shiny, patent-leather platform shoes. It wasn't too bad. For the first hour.
By the 5th hour, my feet were in so much pain that it became increasingly difficult to focus on the client. How was I supposed to empower women into embracing all different variations of beauty when I was held to this painful, archaic standard?
I asked the other girls how they managed wearing the heels and was told by the leader of the pack:
"Our feet are f*cking deformed, darling. But don't worry, we have painkillers under the till (register)." So basically, in order to keep their jobs, these young women were popping painkillers like candy.
I tried to find a way around the system. First, I bought shoes with a subtle platform -- only to be scolded by the scummy male manager in his wide-set loafers, who told me the platforms were "not proper heels."
Next, I tucked discreet black ballet flats in a little space below the lipsticks. When the clock struck 8 pm, I would give my desperate feet a break. Only after the third time, I was busted and told if I was caught ONE MORE TIME IN FLATS I would be fired. I was 25 and living in one of the most expensive cities in the world pursuing my dreams as a makeup artist -- so that was the last time I challenged the dress code.
Have you ever tried to stand on marble floor for 10 hours in flats? After years as a makeup artist I can assure you, that's painful in itself. Being forced to do it heels is torture. I can't tell what hurt worse: My feet in the heels, or the shooting pain that would shoot down my legs when I took them off. I, too, began popping painkillers just to get through the day.
It didn't matter how much we complained. The corporate conglomerate didn't care that we needed to take pills in order to do our jobs.
The message was as loud as it was clear: The way we looked was more important than our skills as artists or salespeople. We were merely accessories, and the pain we endured was irrelevant. The men, however, could wear whatever shoes they pleased as long as they were "smart."
It was particularly demoralizing for me, because I had ventured into the business of makeup to challenge the standards of beauty. I loved introducing a woman to a lipstick she would never normally wear, and showing her there was no proper way to be a woman. And I sold a lot of products and made the store a lot of money with my dedication to this ideal.
But after 15 months, I began to have shooting pains throughout my entire body, even in my arms and fingertips. One day, I finally said, "Screw this." I strapped on my big black boots and moved back to New York and continued to work as a makeup artist. And in my new job, no one could believe a makeup artist would be forced to wear heels. No one could believe anyone would be forced to wear heels in any job.
I went and saw a doctor last year about the spider veins I've developed on my legs. He assured me that it was probably from wearing improper shoes on hard floors. He also told me it would cost several thousands of dollars to laser those bad boys off my legs. And considering the job that gave me the veins paid me under 9 GBP an hour, let's just say I don't have that kind of money.
But it's OK, I'll keep them. Because every time I look at those purple veins splayed across my legs, I'm reminded that no job in the world is worth being in physical pain for. Ever. And that really, what the hell does wearing heels have to do with my talent and my work ethic?
Oh, and I hope this "heel-gate" scandal knocks that smug little manager in his "smart flats" right down on the marble floor of that high-end luxury department store in London.