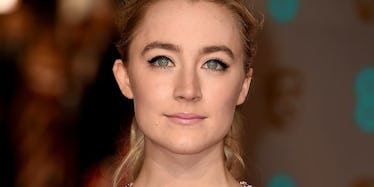 These Celebrities Turned The Oscars Red Carpet Into 'The Little Mermaid'
Getty Images
When you can't figure out what to wear to a party, there's only one question to ask: What would a Disney character do?
That certainly seems like it went through the minds of this year's Oscar nominees, who've been channeling "The Little Mermaid" on the red carpet. From Saoirse Ronan's glittery emerald number (oh hi, Ariel's tail) to Whoopi Goldberg's over-the-top octopus ring, the stars are taking aquatic influences to the next level.
Maybe we've just got Disney on the brain, but between the seaweed motifs (looking at you, Brie Larson) and the scaly metallic sequins, we're feeling a wave of nostalgia.
Now, all we need is a Prince Eric.
"Brooklyn" star Saoirse Ronan is all grown up and ready to find her acting legs.
#BrooklynMovie Saoirse Ronan in @CalvinKlein at #Oscars. More red carpet later on our site. pic.twitter.com/Bs6dkc6isI — Tom + Lorenzo® (@tomandlorenzo) February 28, 2016
Naomi Watts definitely got the watery memo.
Whoopi Goldberg is playing the villain in all black with an octopus ring. Ursula, that you?
#Oscars Red Carpet: Whoopi Goldberg pic.twitter.com/NlcHQdKUfN — Karen Civil (@KarenCivil) February 28, 2016
Olivia Munn's orange-red gown is exactly the same shade as Sebastian on his best day.