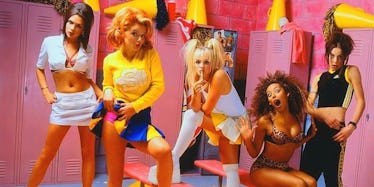 10 Girls From The 90s Who Kicked Ass And Paved The Way For Modern Feminism
PolyGram Filmed Entertainment
Before I knew what a feminist was or had ever heard of a "girl boss," I received some advice from my best friend's older sister who said, "No matter what you do, just kick ass lady!"
It's a silly, yet important reminder to put your all into whatever you set out to accomplish in life and to simply kick ass doing it.
Maybe the phrase "girl boss" is a millennial take on feminism or an ode to the influential women with entrepreneurial skills. Either way, a girl boss thinks for herself, empowers others and is damn good at what she does.
If you're a girl power enthusiast, take a stroll down memory lane with a few kick ass girls we grew up with:
Clarissa, "Clarissa Explains It All"
Clarissa gave excellent dating advice:
Sometimes the better you know someone as a friend, the better the chance that when it comes to dating, you don't really know them at all.
She was quoting Sting, William Shakespeare and Charles Dickens before the age 0f 16.
She was a vegetarian who loved junk food: Mom's Tofu Sundaes
Clarissa was the queen of the "cool panic."
She could make annoying boys disappear, i.e. her little brother, Ferg-Face.
Clarissa was a young 90s style icon.
Her BFF was a dude.
Tia and Tamera, "Sister Sister"
They were young feminists and anti-groupies:
 Look you low life womanizing sleaze ball. We're not property. We're sick of you and your degrading lyrics.
"Sister Sister" helped us through our awkward years by dedicating episodes to pimples, peer pressure, mean girls and first dates.
They had integrity: No stealing, lying or back stabbing.
They had Goodie Mob on their show back in 1998.
They taught us everyone inhales at least once. . .
Go home, Roger" will always be the funniest thing to say to annoying boys.
You could relate to the times when parents were embarrassing.
Cher Horowitz, "Clueless"
She was an excellent public speaker and a humanitarian.
She was a boss at negotiating:
Mel: You mean to tell me that you argued your way from a C+ to an A-? Cher: Totally based on my powers of persuasion, you proud? Mel: Honey, I couldn't be happier than if they were based on real grades.
She had standards:
You see how picky I am about my shoes, and they only go on my feet.
She had the best comebacks:
Amber: Was I the only one listening? I thought it reeked. Cher: No I believe that's your designer impostor perfume.
She had knowledge and vocabulary:
No, Hamlet didn't say that.
She was a matchmaker and makeover expert.
She knew how to puff and pass.
She took rejection well and was still a hopeless romantic.
Aaliyah
She introduced us to a thing called "Jazz personality, G mentality."
She gave us the double platinum Age Ain't Nothing but a Number album.
She successfully crossed over from music to acting with roles in "Romeo Must Die" and "Queen Of The Dammed."
She was the "Princess of R&B" and "Queen of Urban Pop."
She was best friends with music goddess, Missy Elliott.
She was "street but sweet."
The Spice Girls
They made "girl power" a worldwide phenomenon.
They where internationally recognized by nicknames: Melanie Brown (Scary Spice), Melanie Chisholm (Sporty Spice), Emma Bunton (Baby Spice), Geri Halliwell (Ginger Spice), and Victoria Beckham (Posh Spice).
They had the signature hair game on lock: Sporty Spice -- ponytail, Scary Spice -- curly afro, Ginger Spice -- red hair, Baby Spice -- Pigtails and Posh Spice -- bob.
They knew their worth and stood their ground with lyrics like:
Last time that we had this conversation I decided we should be friends. Get your act together we can be just fine.
TLC
They promoted safe sex by incorporating condoms as a fashion statement to get young people's attention.
They wrote/co-wrote a majority of their music.
They helped us deal with self-image and unrealistic concepts of beauty with songs like "Unpretty."
They made us want to wear baggy clothes and not care what boys had to say about it.
Their album, FanMail, was a dedication to the fans and included their actual names on the cover.
They gave us the anthem of 1999 with "No Scrubs."
 Daria
She was a smart girl who was cool and subversive.
She wasn't afraid to be herself:
I'm not miserable, I'm just not like them #Themiserychick.
Her misanthropic teenage girl sense of humor was so on point.
She was a teacher and a role model:
What do you mean pushing yourself as some kind of role model, when all you care about is how you look and what celebrities you know. Aren't teenage girls screwed up enough without you foisting your shallow values on them and making their lousy self-images even worse?
She was loyal a loyal friend and sister
She referenced pizza in her high school graduation speech:
There is no aspect, no facet, no moment of life that can't be improved with pizza. Thank you.
Jennifer Lopez
She slayed in her leading role in the "Selena" biopic.
She casually made a green Versace dress infamous.
She gave birth to twins and still has a incredible figure, and by figure I mean ass.
Not only did she date a mogul (Sean Combs) but she is a mogul with a clothing lines, perfumes, and a production company.
She was a Fly Girl on In Living Color.
Lil' Kim
She is the OG Queen B.
Kim's verse on "Ladies Night"
Her wig game was extravagant: I'm talking yellow, blue, red, green and blonde.
She teamed up with Christina Aguilera to address the issue of double standards on "Can't Hold Us Down."
She was the "Diva of Bad Girl Rap."
She got felt up by the queen diva herself, Diana Ross at the 1999 VMA's.
She was the only girl in Jr. M.A.F.I.A. and the first outwardly sexual female rapper in a male dominated industry.
Gwen Stefani
She is the cofounder and lead vocalist of her band No Doubt. 
She ain't no "Hollaback Girl."
She created a clothing line along with multiple fragrances.
She is a philanthropist.
She was strong enough to stay in No Doubt after her and bandmate Tony Kanal broke up.
She has always been cool.
Top Photo Courtesy: Fanpop