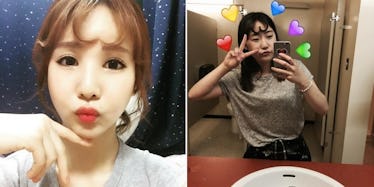 People Are Transforming Their Bangs Into Hearts In This New Hair Trend (Photos)
Instagram
We've seen a lot of beauty trends involving dyeing hair all sorts of crazy colors.
But now, people are loving a new hair craze that ditches the dye for creative cuts.
Hateu aapmuhri, or heart-bangs hair, is the hot new trend taking over South Korea's style scene.
Tons of people are swapping out their boring bangs for some heart-shaped strands in the centers of their foreheads.
This sweet style is especially popular among the fashionable people of Seoul's Gangbuk District, and ever since this trend came into play, lots of people are posting photos of their adorable heart hairdos to social media.
Take a look at the pictures below to see this new hairstyle trend.
Thanks to South Korea's newest hair trend...
...you no longer need accessories to rock designs in your hair.
Hateu aapmuhri, or heart-bangs hair, is all the rage now.
If you're wondering what the heck this hairstyle is, it's just what it sounds like.
This trend transforms your bangs into a cute heart shape resting right in the center of your forehead.
It's not hard to see why people are falling head over heels for heart-bangs hair.
The creative hairstyle is downright adorable.
Plus, it's super easy to master this look.
All you have to do is style your bangs in the perfect heart shape with a curling iron...
Use some hairspray to lock it in place...
...and you'll have a heart-shaped hairdo that lasts all day.
You can't go wrong with this lovely look.
Citations: New Korean Hair Trend Turns Bangs into Hearts (Kotaku)