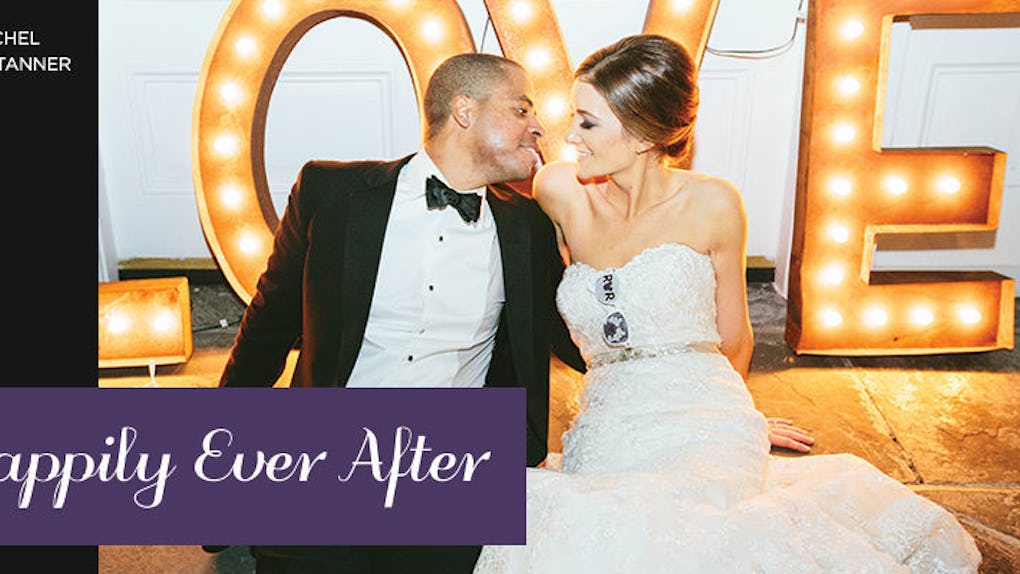 Marissa Lambert Photography
Happily Ever After: A New Orleans Fairytale Wedding To Enchant You
Welcome to Elite Daily's Happily Ever After series, a collection of extraordinarily unique and downright spectacular Millennial weddings showcased in magnificent detail.
It's the ultimate inspiration for brides and grooms-to-be and romantics who just cannot get enough of fairytale weddings.
If your "dream wedding" folder is bursting with photos of vintage décor, vibrant flower bouquets, black tie flair, floating candles in mason jars and delightful cake pops, our Happily Ever After series will fuel you with even more creative vision for your special day.
Ron Tanner proposed to Rachel McQuaid Tanner on a beautiful day at the Brooklyn Botanic Garden.
The sun's rays cascaded onto vibrant cherry blossom trees as the couple weaved their way through the crowds of admirers.
When they arrived at the rose garden, Ron surprised Rachel with a pair of Minnie Mouse ears. He asked her to put them on and accompanied her with a matching Mickey pair.
"Five years ago, a Disney princess walked into my life," Ron said when he got down on one knee.
It was the beginning of an exciting fairytale the pair would remember for the rest of their lives.
Welcome to Ron and Rachel's garden fairytale-themed wedding.
Rachel wore a stunning strapless gown by Allure Bridals on her big day.
The bride picked a rich fall-themed color palette for the wedding and for her bridesmaids' dresses.
The bridesmaids certainly had a fun time getting ready with the beautiful bride.
Ron and Rachel tied the knot at the groom's New Orleans family church, Corpus Christi.
The enchanting atmosphere continued during the cocktail hour, which took place in the venue's Camellia Garden by a lit fountain and oak tree.
Romantic candles, festoon lighting and floating gardenias embellished the cocktail reception area.
The bride describes the reception décor as "romantic, with a touch of whimsy."
Each guest's table setting was adorned with a folded napkin, a menu and a sequin wand.
The wand included special instructions for every guest to "let love sparkle" and wave the wand for the happy couple during the traditional New Orleans second line parade at the end of the night.
The couple served local cuisine at the reception.
And as for the fillings inside Ron and Rachel's tiered vanilla cake, they were certainly unique choices.
The couple's magical evening came to a close when the New Orleans second line band paraded all of the guests outside.
Ron and Rachel's storybook wedding is certainly one to be remembered.