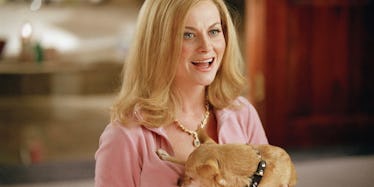 Exactly What To Get Your Mom For Mother's Day, Based On Her Personality
Paramount Pictures
Each Mother's Day, my sister and I rack our brains trying to find a gift for the woman who raised us. It's tough, too, since my mom has practically done everything for us growing up.
As a single mother who immigrated to this country from Israel without a cent to her name, she worked tirelessly to provide my sister and I with everything we wanted, from prom tickets to moderately expensive jeans.
I feel that pang of Jewish guilt wash over me as I try to find Mother's Day gifts that'll express how much I appreciate all she's sacrificed.
But, moms are tough. They'll tell you they want nothing more than a hug and the company of their kids for an evening in, but you know better.
Luckily, the product review community We Are Top 10 came up with a handy infographic that identifies every kind of mom and the gift that would be most suitable to her personality. Has your mom always been stressed out, fretting over schedules and PTA meetings? Is she a free-spirited thrill-seeker?
This May 8, stop worrying about finding perfect Mother's Day gift. We got you covered.