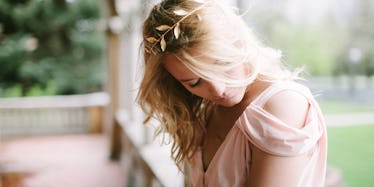 Model Is Urging The Fashion World To Drop 'Plus' In 'Plus-Size Models'
Stocksy
Plus-size women are notoriously underrepresented in the fashion industry.
Though many designers have begun to embrace a wider range of sizes and body shapes, the fact remains that there's an extreme disconnect between what "plus-size" refers to in the fashion industry and what it means in the real world.
Plus-size models are, typically, far thinner than their real-world counterparts.
That's partially why several models in Australia have joined together in protest of the term.
The group, led by size-eight model Stefania Ferrario, launched the #droptheplus campaign after noticing how often relatively thin models get labeled as plus-size in fashion campaigns.
One such model is Robyn Lawley, the first "plus" model to be featured in Sports Illustrated. At a size 12, she's thinner than the average woman, who is a size 14.
She admits,
I don't know if I consider myself a plus-size model or not.
One glance at the curvy model will tell you: Robyn Lawley is not, by any stretch of the imagination, bigger than the norm.
Ferrario, the face of Dita von Teese's lingerie label, has faced similar seemingly discriminatory labeling in the past, though at size eight, she too is thinner than the average consumer.
I am often labelled a 'plus size' model. I do NOT find this empowering… Let's have models of all shapes, sizes, and ethnicities, and drop the misleading labels. I'm not proud to be called 'plus,' but I am proud to be called a 'model,' that is my profession."
But the #droptheplus campaign isn't just about the discrepancies among definitions of "plus-size." It's about the label itself and the idea that a woman must be defined by her shape or size.
Ajay Rochester, former host of "The Biggest Loser," said it best:
We are all women.
The #droptheplus campaign aims to urge women to stop feeling compelled to label themselves in terms of size. And it also aims to promote confidence.
Ferrario wrote on Twitter,
Sexy is a state of mind, not a dress size. The sexiest thing anyone can possess is confidence. Don't let society dictate to you what's beautiful, embrace what makes you different.
Ferrario spearheaded the #droptheplus campaign.
The fashion industry labels me as 'plus' size! And we wonder why so many girls have body image issues. We need to get real! #droptheplus — Stefania Ferrario (@stefania_model) March 18, 2015
She's all about promoting confidence.
Love this <3 @ajayrochester #droptheplus pic.twitter.com/5eVW22MtMi — Stefania Ferrario (@stefania_model) March 22, 2015
She wants to eliminate the label completely.
No need for the 'plus' size label. If it gets eradicated in the fashion/model industry it'll flow on from there to stores too #droptheplus — Stefania Ferrario (@stefania_model) March 22, 2015
Ferrario hopes the industry will stop defining women by their size.
She thinks labels are harmful and hurtful.
And her goal is to empower women to love themselves.
Citations: This Aussie Models Drop The Plus Campaign Proves That Size Is Just A Number (Mic), These Inspiring Models Want The Fashion World To Drop The Term Plus Size (Elle)