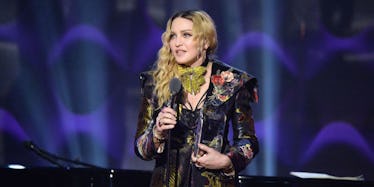 Madonna Gave An Epic Speech About Sexism And Misogyny And It's Everything
YouTube
The fierce, forever Queen Madonna gave a deep, powerful speech at the Billboard Women in Music event on Friday, December 9, as she accepted the "Woman of the Year" award.
The 58-year-old legend was being honored as the highest-grossing female touring artist of all time — an accomplishment that she continued throughout this year.
When she took the stage to accept the award, Madonna said after opening with a joke, "I stand before you as a doormat. Oh, I mean, as a female entertainer. Thank you for acknowledging my ability to continue my career for 34 years in the face of blatant sexism and misogyny and constant bullying and relentless abuse."
The icon then opened up to the audience about her first few years in New York City, during which she was raped at knifepoint, robbed so often she "just stopped locking the door," and lost almost every single friend she had to AIDS and gun violence.
The icon transitioned from these hardships to talking about what it's like to be a female — not just in the entertainment industry — but in our patriarchal society.
"There are no rules... if you're a boy," Madonna said. "If you're a girl, you have to play the game."
You're allowed to be pretty and cute and sexy. But don't act too smart. Don't have an opinion. Don't have an opinion that's out of line with the status quo, at least. You are allowed to be objectified by men and dress like a slut, but don't own your sluttiness. And do not, I repeat, do not share your own sexual fantasies with the world. Be what men want you to be, but more importantly, be what women feel comfortable with you being around other men. And finally, do not age because to age is a sin. You will be criticized. You will be vilified. And you will definitely not be played on the radio.
Speaking of "sexual fantasies," Madonna also spoke about the harassment she endured after releasing her groundbreaking, sexually charged album "Erotica" in 1992, as well as her famous "Sex" book.
She tearfully spoke about being likened to Satan and about the press relentlessly calling her a "whore and a witch."
She compared her experience as a "controversial," sexually expressive entertainer to her male counterparts who were doing the exact same thing, saying,
I said, 'Wait a minute. Isn't Prince running around with fishnets and high heels and lipstick with his butt hanging out?' Yes, he was. But he was a man. This was the first time I truly understood women do not have the same freedom as men.
She ended her epic speech by thanking all the people (aka the fuckboys) who bullied her throughout her career: "Your resistance made me stronger, made me push harder, made me the fighter that I am today. It made me the woman that I am today. So thank you."
And we should all thank Madonna for staying in the game and not letting the hate win.
Despite a lifetime of bullying and criticism, she continued to create ART. And in her words, "People say that I'm so controversial. I think the most controversial thing I have ever done is to stick around."
I think the most controversial thing I have ever done is to stick around.
Madonna, we are forever grateful you stuck around, because your trailblazing music has empowered our sexualities, inspired us to be authentic and articulated our pain in a way words alone cannot.
Citations: Madonna Delivers Her Blunt Truth During Fiery, Teary Billboard Women In Music Speech (Billboard)