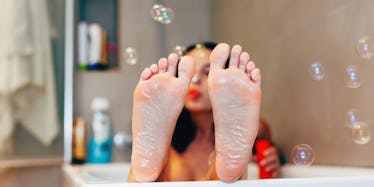 Fall's Most Luxurious Products Your Skin Will Thank You For Splurging On
If last fall's fashion icon was the hippie, this year's would be closer to a medieval queen in a gothic novel.
We've given up fringe in favor of velvet and royal fabrics like brocade and leather. Drama is in, denim is out.
It's not just style that changes. When trends shift, beauty products follow suit. In colder weather, we usually swap out oil-free creams and light lotions for weather-hardy equivalents. That being said, this season's skincare offerings are more luxurious than ever before.
Go ahead, have a little scroll. You deserve it.
Honey masks pull us out of a winter-skin funk.
Creme Ancienne Ultimate Nourishing Honey Mask, $150, Sephora 
It's easy to be skeptical of all things sticky, (no jokes, please) but Fresh Cosmetics' Crème Ancienne Ultimate Nourishing Honey Mask epitomizes luxury.
With a scent that hits the nose like a bottle of bourbon, the 10-minute treatment works fast to plump up your face with vitamin E and echinacea.
Rich facial oil gets rid of dry spots.
Lapis Facial Oil, $72, Amazon 
Okay, so there isn't actual lapis lazuli gemstone in Herbivore's deep blue Lapis Facial Oil.
However, the bottle contains blue tansy, an essential oil that boasts serious anti-inflammatory and calming powers, thanks to an element called azulene. It doesn't hurt that the earthy, woodsy scent reads "expensive spa vacation," not "discount candle rack."
A firming serum is like a face-lift in a bottle.
Resveratrol Lift Firming Serum, $82, Sephora 
If you've ever read a study on the benefits of red wine, chances are good you've come across the antioxidant resveratrol.
Caudalie's Resveratrol Lift Firming Serum does all the good of a pricey plastic surgeon visit, especially if you're 25 and mostly feeling a little run down.
Pure gold masks make us feel like King Tut — but in a glam way.
Un-Wrinkle 24K Gold Intense Wrinkle Sheet Masks, $68, Sephora 
If you've never tried a cotton sheet mask before, don't be freaked out by the mummy-like way your reflection looks.
Instead, think about the good you're doing. Peter Thomas Roth's Un-Wrinkle 24K Gold Intense Wrinkle Sheet Masks are pre-soaked with anti-inflammatory — you guessed it — 24-karat gold and hydrating hyaluronic acid.
A fruity face mask resurfaces our tired faces.
Brigten Pineapple Enzyme + Gemstone Instant Glow Mask, $48, Amazon 
Even if you're religiously washing your face, encouraging faster cell turnover calls for something stronger than soap.
Herbivore's Brighten Pineapple + Gemstone Mask is more than just a beautiful package. The formula boasts a unique cocktail of fruit-derived alpha hydroxy acids to help resurface skin and fine-ground Brazilian white tourmaline to increase facial circulation.
Luxuriously moisturizing bath products turn even the worst day better.
Beautiful Shower Gel, $10, Lush Cosmetics; Magical Moringa Moisutrizer, $23, Lush Cosmetics 
It's no secret we're big fans of Lush's bath products, but this season's offerings add rich scents and oils that are more "Turkish bath" than "shower at the gym."
In the Beautiful shower gel, peach and myrrh scents combine to create spice and sweetness, while the Magical Moringa facial moisturizer combines rich moringa, argan oil and rosehip oil. Don't miss it.
We top it all off with a musky perfume.
Marc Jacobs Decadence, $56, Amazon 
It's not unusual to see Marc Jacobs' latest perfume release in the hands of a dozen style bloggers, and this year's "Decadence" is no exception.
With its adorable purse shape and a tassel that probably costs as much as a large latte, it's important to give this woodsy potion its due. We loved the scent, but we'd recommend carrying the bottle with you in case it begins to fade.