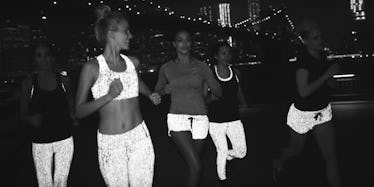 Lululemon Just Pissed Everyone Off Again With Its New $300 Leggings
YouTube
What happens at Lululemon never, ever stays at Lululemon. Usually, it goes viral.
This week, the luxury athleisure retailer made waves by boldly taking the chance on a collection of ultra high-end athletic items, including these nearly $300 reflective running tights.
That noise you hear is a thousand wiry, yoga-loving women collapsing to the floor in absolute dejection.
If you know me, you know I'm always willing to throw down for @lululemon. But $300 for leggings?!?? And $100 for a sports bra?!? No. pic.twitter.com/XHdFKX4cRF — Brigitte (@brigmix) October 26, 2016
I didn't know those lulu pants cost $300... Maybe I'm not getting them.. #Lululemon — Daniella Doolen (@doolen18) October 26, 2016
Women's Wear Daily (WWD) reports the Reflective Splatter capsule collection will be sold exclusively in stores and online, representing the first launch from its Lab concept store.
Twitter immediately lost its mind over the news. Women who collect Lululemon couldn't fathom having to skip a launch because of the price tag.
@lululemon ridiculously expensive. $300 for a pair of running tights is just stupid especially since your quality has gone to crap — MrsSteak (@MrsSteak) October 26, 2016
@HuffPostCanada lawd! Lemme get a loan so I can buy yoga leggings. Not! — Rhonda N (@RhondaofHalifax) October 25, 2016
It leads us to wonder what exactly justifies a price tag this high. Even Nike's most expensive leggings only come in at around $150.
The answer lies in the leggings' reflective nature, according to WWD, which was created by a double-printing process that's brand new to Lululemon. Instead of simply sitting on top of the fabric, the first print lays down the design, while the second adds a luminous layer over the top.
Regardless, plenty of Lulu fans were not pleased. As word spread about the new collection, echoes of disbelief reverberated across Twitter. Fans will comfortably spend $300 on a whole shopping trip, sure, but the price tag seems excessive for just one piece.
If you're looking to drop even more dough, the collection includes a pair of $150 running shorts, a $100 sports bra and a $70 tank top (which notably only features reflective accents).
This isn't the first time Lululemon has offended its customers, either. In 2013, the company responded to claims its pricey leggings were transparent by advising shoppers to purchase a size bigger.
All I'm saying is, these leggings also better be invisibility-equipped, period leak-proof and provide free WiFi.