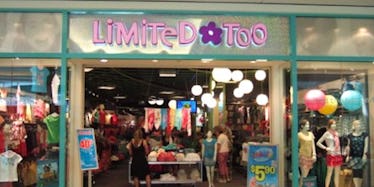 #TBT: These Are The Reasons You're Still Obsessed With Limited Too
Pinterest
Hold your sequin shorts: Limited Too is returning to a mall near you.
If you have no idea what I'm talking about, Limited Too was basically the holy ground for all things 90s tweens. From smiley face denim pants to bubble furniture, this store was the drug your pre-pubescent brain needed to get high on and everything your mom didn't want to buy for you.
In honor of Limited Too's return, here are all of the glorious items your 90s tween-self is still obsessed with.
Bubble Shirts
These shirts were a hot item not only because one size fit all, but also because after you took it off it would shrink down to doll size (which was something that was really exciting in the 90s because we didn't have things like iPads).
Sports-Themed Clothes
If you were involved in any type of sport (or if you weren't) this was the cool way of 'repping it.
Underwear
What's better than motivational puns on the front of your undies? Limited Too had the best selection of underwear and totally kicked off the era of the Days Of The Week collections. Prime.
Denim Skirts
No outfit was complete without this awkward denim skirt with the belt sewn in. Chastity at a young age.
Hooded Shirts
Hooded shirts are still a mystery as to why anyone would wear them. Just blame the 90s.
Track Pants
You didn't even run track.
Tankinis
90s swimwear was all about back cut-outs and tankini sets that never quite fit properly. Seriously RIP to tankinis.
Satin Pajamas
You couldn't be the center of attention at your friend's slumber party unless you were rocking a set. You didn't even care when you rolled out of your sleeping bag (also Limited Too) covered in sweat, as long as you were stylish.
Cargo Pants
You know you were the baddest b*tch on the playground when you unzipped your cargos and were magically in shorts. Untouchable.
Combo Packs
You didn't just buy a backpack with Hawaiian florals on it, you needed the portable fan and the digital cam too.
Layered Shirts
If you had one of these shirts you were a literal poster child for Limited Too. They set this trend and you gave into it.
Fuzzy Sweaters
Fuzzy sweaters were a winter essential and literally fell apart in 5 seconds. That's why you wanted them so badly.
Bubble Furniture
Bubble furniture was SO necessary for making your room into the ideal girl's world, and legit so expensive. Chances are your mom definitely paid 60 bucks for 10 dollar plastic.
Bubble Bags
Not only was the bubble bag great for bumper-ing people in the hallways, it could also be used as a floating device.
 Angel/Princess Apparel
Angel and princess decor were literally a prime factor in deciding who you were as a tween. Who did you choose to be?
Fuzzy Pens
Who were you if you didn't have one of these? Honestly.
Candy
The candy selection was beyond out of control, from War Heads to Spice Girl Chupa Chups. So unnecessary, yet SO necessary.