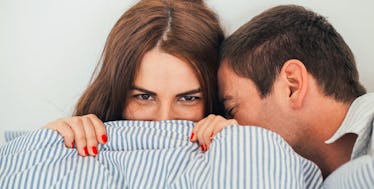 Why I'm Choosing To Thank My Body, Instead Of Condemning It
Stocksy
My Dearest Body, It's me, your inner soul speaking. I have a few words for you.
No, I will not apologize for the Italian beef and chili cheese dog I inhaled this past weekend (ugh). First off, there are so many negative things I would like to say to you. Like, how cramps and bloating make me feel ugly and how those pimples on my face make me feel self-conscious.
Also, the way my arm flab jiggles is the worst. I could keep going on and on, but I'll stop right there. Right now, I will overlook the temporary flaws and focus on the permanent beauty.
Here goes nothing: Body, thank you for giving me the strength to jog miles when I am feeling stressed (stressed spelled backwards is desserts, I know you love that). You pushed through every bead of sweat that dripped down my face and had the courage to finish strong.
Thank you for the cries I belted out because absolutely nothing was going my way. Thank you for getting me through heartbreaks and also for reminding me that memories are really an amazing resource in our brains that remind us of the lessons we have learned in life.
When I am feeling down or tired, you get me through the day. When it's time to get work done, you lift me up. When I want to nap, you let me. On days when I feel like I don't want to do anything, you're fine with it.
But, you also motivate me when I need it the most. Thank you for giving me the strength to carry grocery bags, my nephew, my dog, moving boxes, my purse, bags of booze, dirty laundry, bags of food and everything else that weighs more than 1 pound. You are a trooper, my savior.
Body, I am sorry for looking in the mirror and scrutinizing you in the past for not looking "magazine cover" perfect or celebrity Photoshop ready.
I am sorry for that time I jiggled the "fat" on my legs and rolled my eyes. I am sorry for grabbing the "extra meat" around my stomach area and thinking of all of the things I wasn't happy with because ultimately, I did that to you.
To society, I am considered petite, but let's be honest: Every female out there has looked in the mirror at least once without feeling happy with herself. The truth is, the more I grow up, the more I am thankful for everything you have given me.
You have put me to bed and have woken me up. You have given me the power to go about my day, whether it was a hard one or an easy one that consisted of not doing much. When my loved ones hug and kiss me, you make me feel joy.
You could be any weight size and a female will still be unhappy with you. I know, I hate it, too, and in the end, you have the most labels: fat, skinny, large, voluptuous, curvy, big, twig, flat, muffin top, thunder thighs, etc.
Typing those just makes me feel disgusted by the people who use those words in a negative way. I have come to realize that the only word that should describe any female body is beautiful. You are simply beautiful. I can't forget to mention, you are flawless.
You take in all kinds of feelings, both physically and emotionally. My favorite days are when you let out creativity and excitement because when I feel productive,, we're both cheerful. You bear the pain of a period every month and for goodness sakes, a child lived in your body for nine months.
Since I stopped looking at you in a negative way a long time ago, I am much more peaceful. Yes, I eat and drink like sh*t on the weekends and I am sorry. But, you should be used to it by now. I am good at making it up to you by staying active and eating clean during the week.
C'mon, no one is perfect. You did teach me that if I am not happy with something, I should work on it, right? Are you enjoying those three-mile jogs to the beach? Because I am not. Thanks to you for sticking it out because those jogs only lead to positive energy and good health.
I just want you to know that on the days when I am feeling "grossed out" by the way my stomach looks, I always rebut with health. You are healthy and to me, that's all that matters.
Now, we take compliments and always say "thank you" after them. Not "Oh my god, no ew." We cherish compliments and enjoy them, whether they are true or not,  because the other person had the guts to say it.
You have taught me that whatever body size there is out there, it's okay. And that's why I tell my girls that they are beautiful, no matter what. By now, they know not to complain about the way they look because you have taught me that inner beauty and confidence is what is important.
Whatever body sizes are out there, it doesn't matter because if you think about it, there are actually no labels when it comes to any body shape or size. Did you know they make different size shirts, pants, dresses, sweaters, bras, underwear, shoes, shorts, skirts, tanks, leggings, jumpsuits, rompers and coats? That's right: There isn't one size in this world and the best part is, the world is your wardrobe.
Thank you, body, for giving me a chance every morning to just be myself and for showing me that even being considered "skinny" gets negatively misunderstood in this world.
This is why I will never look at any other female differently. I will never know her struggle or pain and suffering. I will never know who she is behind closed doors. All I can wish for her is happiness.
I have come to the conclusion that those who spend their time analyzing other people's bodies need to reevaluate their own lives. To men who downgrade women because they don't like the way they look: Go find someone else with whom you'll be pleased and never forget that every bad word you say to a woman about her body will lead to bad karma.
Men and women who impair another person's confidence because they aren't happy are the ones who need to look in the mirror and correct their flaws.
Body, you are beautiful, no matter what. Thank you for giving me strength every day and whether I am being productive or not, just remember that without you, I wouldn't be here. Most importantly, without your health, I wouldn't be chasing my dreams as hard as I am.
Utlimately, I just want to say that I will always love you and I promise that if I feel unhappy, I will make positive changes because you deserve it.
Thank you for giving me the energy to smile because there is no better feeling than showing those around me that we can conquer the world with confidence rather than a body label.
Hugs and kisses,
Me
Photo Courtesy: Tumblr