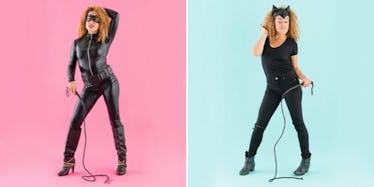 5 Easy Last-Minute Catwoman Costumes For Halloween
Catwoman will forever be one of the best Halloween costumes out there.
This year we decided to bring you five new takes on this classic badass costume.
From lazy girl to #girlboss, we have the perfect Catwoman costume to fit your mood.
Easy Catwoman Costume
This is the sexiest, easiest Catwoman costume to date.
Lazy gals, this one's for you! To achieve this look, all you'll need is a black top, black jeans, black boots and a couple amazon prime accessories.
We bought a pleather cat head piece and a costume whip to complete this fierce Catwoman costume. This costume only cost $14. Lazy girl on a budget FTW!
Cat Head Piece, $8, Amazon; Bull Whip, $9, Amazon 
For this look, we kept the makeup super simple and used the cat-eye kit to achieve a simple winged eye. Feel free to keep the lips super light or go the drama route with a dark hue.
Glam Catwoman Costume
Grab your sparkliest dress for this Catwoman costume.
Catwoman is one of the fiercest female villains. For this look we went the super glam route.
We picked up this sparkly black sequined dress from the thrift store for $10. Pair it with a set of black heels, long shiny black gloves and cat-eyed glasses.
This Catwoman may be all about the glam, but I still wouldn't mess with her.
Let's talk about hair and makeup! Create two small little buns at the top of your head to represent cat ears.
Wrap most of your hair around the base of the bun to give the bun a pyramid effect. For the makeup, use liquid liner to draw a cat nose, whiskers and a black top lip.
Classic Catwoman Costume
"I won't touch you, I'll scratch you." — Catwoman
Yes, yes, and more yes! To score this look, purchase a long-sleeve pleather zip-up suit. Put on your best pair of bad girl boots and rock your fierceness all night long.
Cat Woman Zip-Up Costume, $23, Amazon 
Bad-girl Catwoman accessories are a must. We bought a costume whip, mask and superhero belt from a thrift store to complete this look.
Feel free to mix and match to get the Catwoman statement you want to achieve.
Since this look has a mask, makeup was super easy. All you need is a dark red lip that packs a punch.
Office-Appropriate Catwoman Costume
#Catwomanboss
To achieve this #girlboss office-appropriate Catwoman look, start with a black dress as your base. Our dress had a black peplum top attached, but feel free to mix your own black leather or non-leather items to make an outfit suitable for your office.
Pair with black heels and a few Catwoman accessories. We picked up these night goggles and belt from the thrift shop. Try making your own belt using black leather and felt.
This makeup look is just like the one above but has a darker eye.
Use a fluffy brush and a charcoal or black eyeshadow to blend a smokey effect from the lash line up to where your eye creases.
In your crease, add a matte warm brown shadow for a softer line. On your brow bone, add a pop of shimmer in a cream or white shimmering shadow.
Funny Catwoman Costume
For the gal who just loves cats.
Now this costume is for the literal cat-loving woman. When you love cats this much, then this shirt must be in your wardrobe. Pair with your DIY denim, a flannel shirt and cat baseball hat.
You'll never guess who inspired the cat baseball hat — Beyoncé! We created our own by hot gluing some black foam ears to the top of a plain black baseball hat. We dare you to take it to the next level and bedazzle the whole thing just like Queen Bey.
Me-ow!
DIY Production and Styling: Kelly Bryden Modeling: Mariaclara Golfo Beauty: Misty Spinney Photography: Chris Andre