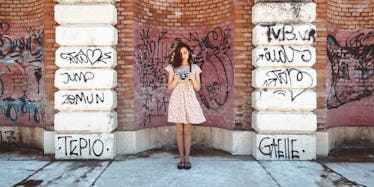 Ladies: The Dos And Don'ts To Making The Most Of Your College Career
Stocksy
It's understandable that parents only want the best for their children, and in this day and age, the best means seeking higher education. While college isn't always for everyone, the accepted mindset is no degree, no job.
However, does this even matter when students aren't there for the right reasons? College is the time to find who you are, but there are ways to go about it while avoiding stereotypes and making the most of every moment.
What You Shouldn't Do:
Stay undecided forever.
Yes, it is completely acceptable to be unsure of what you want to do in your first years of school. However, make sure you are choosing your college for the right reasons, not solely for the name or because your friends — or worse, your boyfriend — chose the school. Picture yourself in a particular atmosphere — whether it's a team, a major or an extracurricular activity that the school offers and in which you feel you will excel.
After two years, if you are still undecided, do yourself a favor and re-evaluate your plans. Whether this means changing your major or transferring to a school that is a better fit, make a plan and commit to it. Try taking a variety of classes or joining multiple academic clubs until you fall into what you want. The more you embrace knowledge, the easier it will be to find your passion.
Seek the M.R.S. degree.
Okay, so you want to get married, have babies, find "the one," etc. That's great, but should not be the main goal in acquiring a college degree. Pay attention in your classes and immerse yourself in what you're learning; you may be surprised where your passion actually lies. Make a man respect you, not just think of you as a prize. It requires concentration on studies and careers to achieve both love and success.
Be the constant party animal.
Everyone is guilty of having drunk, sloppy nights. Going away to college is the ultimate vacation from your parents — no rules, no curfews and no supervision. We are all at fault, and hey, maybe it's healthy. Maybe we need to get this phase of life out of our systems, but there are limits. Underclassmen antics can lead to learning experiences, but reflect very seriously before you choose to be the girl who still gets whipped cream licked from her stomach atop a bar during her senior year. Take ownership of your identity.
What You Should Do:
Live in the moment.
College years fly by, but instead of counting the days, make them count. Consider what your school can offer and take advantage of the opportunities. Whether you do this by learning to play an instrument, taking a leadership role on an athletic team, academic club or sorority, or discovering a passion for design and photography, the possibilities are endless.
Prepare for the future.
Networking and looking ahead are two important parts of college that many students often forget. While you may say I'm contradicting myself by also urging you to live in the moment, I am also saying that it's important to look ahead and seriously consider where you see yourself post-graduation. Use your professors and internships for advice and connections. By successfully learning to network, you may understand what it takes to make career dreams a career reality.
Never give up.
College is tough — professors assign multiple chapters for reading, 15-page term papers and exams that seem impossible. During finals week, you may feel like your world is crumbling around you as you stare at the same piece of paper in the library — but it is only just beginning. Put in the hard work now for your tests and papers and it will pay off.
Learn to feel accomplished for doing things on your own, even if tasks at hand seem impossible. This is the time to push your limits and figure out how hard you want to work for something. Remember that failure generally precedes success. The bruises that come along the way will remind you that every part of life is a challenge and if you can learn to work through the pain and soreness, success will be worth that much more.
Photo credit: Tumblr