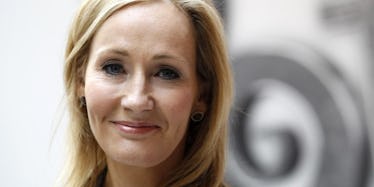 JK Rowling Shut Down A Sexist Tweet About Female Orgasms Being A 'Mystery'
REUTERS
In case you missed my FANTASTIC article on it, there has been a pretty big scientific breakthrough when it comes to the female orgasm.
Basically, scientists could not figure out for the life of them why they exist. Women don't need them to reproduce, and they don't even necessarily get them every time they have sex.
So, WHAT IS THE POINT OF THEM?
Evolutionary scientists finally think they figured it out, and basically, it has to do with a lot of complex hormonal stuff our feeble minds won't necessarily understand.
I'm sure they came up with some valid scientific explanations because, you know, they're fancy scientists with fancy educations.
But, JK Rowling wasn't a fan of the scientific question as a whole.
The whole thinking of the female orgasm as some sort of totally inexplicable mystery thing just seemed pretty *eye roll* to her. (Yeah, because it's a mystery that women should feel every emotion but pleasure, and vaginas are only for birthing babies.)
And she perfectly managed to put her eye roll into words in one epic tweet to the New York Times Science account. (I know, it's weird one of the best authors in the whole wide world was able to do that.)
It all started when The New York Times Science section tweeted this:
Scientists are pondering an evolutionary mystery: The female orgasm https://t.co/9sg9rqLTbj — NYT Science (@NYTScience) August 3, 2016
Then, JK Rowling decided to clap back big time with this awesome tweet that makes me think maybe she should also become a scientist:
Yes, the prospect of pushing an 8 pound object out of your vagina should be more than enough incentive for sex. https://t.co/UoEtPH3lRh — J.K. Rowling (@jk_rowling) August 3, 2016
Yeah, she totally roasted this oddly sexist tweet. (Or maybe it's the way the tweet ended up being framed that was sexist, but either way, someone was ROASTED.)
But if you ask me, she also brings up a good point.
Citations: J.K. Rowling had a no-nonsense response to this tweet about female orgasms (Mashable)