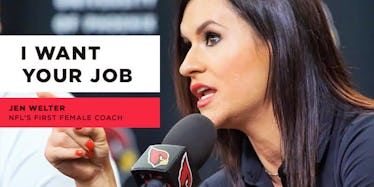 I Want Your Job: Jen Welter, NFL's First Female Coach
Gene Lower/Arizona Cardinals
Jen Welter, the first female NFL coach, is a very busy woman.
The day before we spoke, she was in New York, attending a gala for the Women's Sports Foundation. Soon after this interview, she'll fly to Orlando for another motivational speaking engagement.
When I caught up with her, she was visiting DC to speak to the Navy women's rugby team.
"I'm an absolute believer in uplifting others," Welter, 39, says during a phone call from her DC hotel room. "It's amazing to know that now other little girls will aspire to do what I've done and take it even further."
When you think about it, Welter is the perfect embodiment of a motivational speaker.
Growing up in Vero Beach, Florida, Welter dreamt of being a professional tennis player. But, after a tennis coach told the 5'2" athlete she was too short to play, Welter did what every sensible girl would.
She set her sights on football.
After four years playing rugby at Boston College -- it was the closest she could get to football -- Welter hoped to play for the national women's team. Again, she was too small.
"You can see the little theme there," Welter says.
Rugby dreams shattered, she became a corporate headhunter. Dissatisfied with her career, she tried out for Mass Mutiny, a minor league, all-female football team.
"I was afraid they would tell me I would be too little again, but I couldn't live with the thought of wondering if I could have made it," Welter explains.
In true fairy tale style, Welter did make it.
Many friends and family members told her she'd lost her mind -- especially since in her whole time playing on women's football teams, the job paid only $1 a game. At the end of her season in 2004, she received a $12 paycheck.
"It was the most important check of my career because it was the difference between being an amateur and being a professional," Welter remembers.
To this day, she's never cashed the check and even took it with her to Arizona after becoming the first female coach in the NFL.
"Any time you take a non-traditional path there are going to be bumps in the road because nobody smoothed them out yet," Welter explains, saying her family was worried about the lack of financial security. "It's one of those things where if you want to be successful in this world, you have to follow your passion, not a paycheck."
In January 2014, Welter received an unbelievable offer to play for the Texas Revolution, an all-male football team. As a running back for the team, she was the second female player to hold a position other than a kicker or placekick holder for a men's professional league.
Little did she know, before long she'd be the team's linebackers and special teams coach.
Welter's success wasn't exclusively due to her hard-headed determination, however. In 2015, Sarah Thomas became the first female referee in the NFL. Reporters began asking on-field NFL personnel if they would see a female coach in the future, as well.
Bruce Arians, head coach of the Arizona Cardinals, was particularly intrigued by the thought of hiring a woman to serve as an assistant coaching intern for 2015's training camp and preseason.
After some encouragement from Welter's fellow coaches in Texas, she reached out to Arians.
"He said it was in his heart to bring me in. He didn't know if he could make it happen, but he wanted to," Welter remembers. "And eventually he did."
As an intern coach, her time with the Cardinals ended after the preseason games in September. Although Welter (and every sports reporter in the country) would have loved a full-time role, her position is a landmark for women in professional sports.
"People didn't know if we could have a girl coach in the NFL," Welter says. "And guess what, the reports were in it and was a complete and total utter success."
Welter's position in the NFL was, indeed, a success. The players loved her caring approach to coaching. Kevin Minter, inside linebacker for the Cardinals, told the Washington Post Welter left encouraging notes on his locker and knew exactly what to say to make him play more effectively.
Arians loved her, too, and even admitted he'd have her back if she didn't have a full-time job by next year. For Welter, these words of encouragement are fuel for her to show young girls they have what it takes to follow in her footsteps.
However, she wants football hopefuls to know it won't be easy. In addition to coaching, Welter has a master's degree in sports psychology and Ph.D. in psychology.
"If you want to be with the boys, you've got to be as good as the boys. You have to know the game," Welter says. "You have to take every opportunity that you can to study, learn and really immerse yourself in the game."
Welter suggests learning from a family member who either coaches or deeply loves football. But, what really worked for her was getting on the field.
She pinpoints accessibility as one problem facing females in professional sports. Sometimes, women don't realize the opportunities available to them because those doors haven't been opened yet.
Ask, she says, because girls have to create opportunities for themselves.
"Ask people the tough questions, look for opportunities, break down films," Welter says. "Ask, 'Can I help you?' 'Do you need and assistant?' Be hungry. Be relentless."
For now, Welter speaks and inspires in an effort to reinforce that same drive in women and girls all over the country.
Talk about girl power.