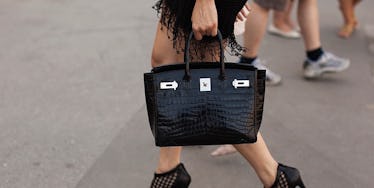 The Real Deal Behind Those Controversial Hermès Crocodile Birkin Bags
Jane Birkin is happy to be a sex symbol and a cultural icon, but having her name associated with animal cruelty is one step too far.
The style star, 68, whose name graces Hermès' iconic and wickedly expensive Birkin handbag, issued a formal statement through the AFP yesterday.
The trouble began when animal rights activist organization PETA released an undercover documentary (warning: footage included is extremely disturbing) exposing the cruel skin-harvesting practices used by crocodile and alligator farms that sell their product directly to the luxury line.
Instead of stunned animals being killed, PETA filmed workers on farms in both Africa and the United States taking knives to the heads of living crocodiles and slowly stabbing them to death.
In some shots, workers even attempt to scramble the brains of still-living animals to keep them from thrashing.
Wide shots show overcrowded paddocks and pools reportedly so dirty with animal excrement inspectors couldn't see their hands when holding them below the water's surface.
Although a farm worker in the documentary confidently tells undercover operatives the luxury industry is "bulletproof," Birkin's response seems to point the opposite direction:
Having been alerted to the cruel practices endured by crocodiles during their slaughter for the production of Hermès bags carrying my name… I have asked Hermès Group to rename the Birkin until better practices responding to international norms can be implemented for the production of this bag.
As fashion media rushed to report the statement, Hermès responded with its own.
The brand told press:
Jane Birkin has expressed her concerns regarding practices for slaughtering crocodiles. Her comments do not in any way influence the friendship and confidence that we have shared for many years. Hermès respects and shares her emotions and was also shocked by the images recently broadcast.
Vogue reports the brand has since denied claims that the farms pictured in the exposé are their suppliers, but PETA continues to push for a change in slaughter.
According to the animal rights organization, it takes up to three stomach skins to make enough leather for a single Birkin bag.
The pricey handbags are a highest-tier luxury commodity, which have been listed for prices as high as $432,000 for a rare Hermès Himalayan crocodile version.
Birkins are a time-honored status symbol amongst high-rollers and female celebrities.
There's nothing that says privilege quite like thousands of dollars casually draped over your arm, being used to hold a snack and a tube of lipgloss.
Although Birkin has yet to issue a follow-up to her initial statement, it's unlikely any change in the ethics of crocodile farming will make PETA any happier.
To the famously controversial organization, leather is still someone else's skin -- regardless of how humanely it's harvested.