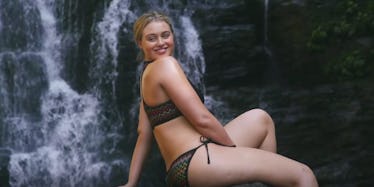 Iskra Lawrence Just Released The Most Body-Positive Photo Shoot Ever
YouTube
Iskra Lawrence has more titles than Khaleesi. She's the destroyer of the thigh gap, queen of body positivity and purveyor of a retouch-free world. She's also the managing editor of Runway Riot, a much-needed space for the curvy "warrior women" of the internet.
She's also my low-key best friend, except she doesn't know it yet. So, my girl Iskra and her squad of body-positive babes just dropped their very first shoot. If it's not fire, I don't know what is.
I mean, damn.
Models Chloe Vero, Michella Vawer, Chloe Marshall, Victoria Gomez, Ash Walker, Fiona Falkiner and Laney Degrasse joined Iskra in their mission to slay.
The shoot was also totally un-retouched.
Iskra explained her decision to ban retouching because it "makes [her] feel good enough not just as a model, but as a human."
Photographer Jen Plas shot the girls against the barre and outside in the park.
Plas explained that it showcases "both sides of each model: the soft and feminine side on the ballet bar, and the confident strength outside in the park."
SLAY.
Creative director and stylist for the shoot Ashley Hoffman says she was inspired by the gym scene from "Clueless," and she wanted to style each woman in snug clothing in shades of black, white, grey and deep blue.
"I wanted it to be cool, not a sweet slumber party."
Hoffman also used inclusive brands like Ana Ono, Chromat, Boohoo and Universal Standard.
The shoot incorporates the "in-betweeners," which are models who aren't a traditional size 2 or a "plus-size" 12.
Model Laney Degrasse told Runway Riot,
You know, I'm not going to change. I'm never going to be a size 2. I can't gain that much weight, and even if I did I feel like it, it wouldn't look right on me. And it wouldn't look right on me if I were a runway model because that's how I'm built.
Personally, we think Iskra — and all the models in the shoot — look fierce AF.
Also, where can I get those leggings?