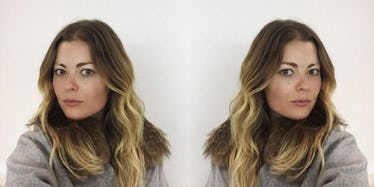 This Instagram Star Reveals How You Can Brand Yourself Like A Pro
For most of us, using Instagram is a mindless game of show and tell. But for a select few, this photo-sharing app is home for branding pros like Beca Alexander, who've mastered the game of visual mood boards.
You may be wondering how different Alexander's pics of beet and kale salads are from the shots of your Starbucks latte. After all, snapshots of your squad could best any Instagram star, even on a bad day.
Sorry to burst your bubble, but her 2,000-plus likes beg to differ.
The co-founder of FashionIndie and self-proclaimed Fairy Blogmother of Socialyte, a branding agency, stresses the importance of curation when it comes to highlighting the slices of your life.
For instance, Alexander prefers sharing shots of her wearing a bra on her head.
She tells us,
It's the most reflective of who I truly am. I love making fun of myself and try not to take things too seriously. Those images always connect best with my fans ... and potential suitors.
Look, there's nothing wrong with showing off your lifestyle. But if you're low on likes and desire some more, try to employ a more scientific method to garner social influence.
Tell your life narrative with visual potency.
First, pull your last 10 Instagrams and ask yourself, does the content flow together? If your photos don't look like pages from the same book, you're going to need to refine and perfect.
Here, Alexander spills her tips on how to make your photo feed a cohesive masterpiece.
Tip #1: Imitate the best.
Look for a few creatives that truly inspire you and begin taking notes on their editorial calendar. They say imitation is the sincerest form of flattery, but it's also the fastest way to ensure you're maintaining a set aesthetic. If you look at the top talents on Instagram, many of them share similarities in how they edit, how often they post and how they choose to feature things.
Tip #2: Create a compelling storyline.
Showcase your life in a way that's entertaining, informative and connected to the audience you're speaking to. Whether that be your closest friends and family or an audience you're looking to rally around your personal brand. I wanted my account to feel more like the city I love, New York, [and] the designers and creatives I love and the things that inspire me. I'd say my aesthetic is 'jaded New York boss bitch to know.' But that might evolve with time.
Tip #3: Establish your color palate.
Having a color palette is imperative. Create a color story before shooting any content and maintain that theme throughout posts. These colors may change with seasons, but establishing that from the beginning ensures you're producing content that's cohesive.
Tip #4: Stick to one filter.
Dedicate yourself to one filter to remain within an aesthetic genre, whether that be minimalist, quirky, beachside, girly, whimsical or modern.
Tip #5: Don't just rely on your phone for images.
Edit and produce content with an editor's eye. You really want to treat it like a magazine of your life. Spend time on popular editing apps like Facetune, VSCO cam, and Everlight. To be a true Instagram star, you need to master photo editing. Play with filters, lighting effects and more to really get your look down. Learn how to shoot if you don't have a photographer.
Tip #6: Showcase a lifestyle, not just a selfie.
Only show a selfie if it includes some tips on what makeup you used that day, or if you have a massive zit you want to share to remind us that you're human. I'm all for selfies, especially if you're Nick Bateman, but people prefer to follow a lifestyle more than just a daily update of what you look like. Mix in content that showcases what you're wearing with styling tips, or where you're eating with a suggestion of what your fans should try. Instagram accounts that educate and showcase compelling images of the account holder are the ones which brands look to work with most. So, selfie with caution and make sure you have a little more than just a pretty face if you want to make a career off of Instagram.
Tip #7: Know your audience and post accordingly.
Since most of my audience is 25-30 and based in New York City, I think of what someone in that age range would be doing in their day and when they'd most likely be on Instagram. I try to post in the morning when they're commuting, during lunch when they're away from their desk, and at the end of the work day when they are need of a distraction.
Tip #8: Consistency is important.
You want to regularly communicate with your fans and engage with them when you're first getting started. The more you connect with them, the more they'll want to connect to you.