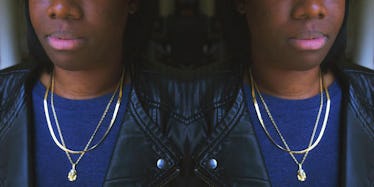 Two Is Better Than One: How To Layer Necklaces Like A Pro (Photos)
A suitable interplay of jewelry can beautify your collar without polluting your outfit -- especially now that temps are dropping lower than Beyoncé's twerk.
If you're not a layering kinda girl, don't stress. You don't need to carbon copy a seasoned fashion blogger's luxe jewels, just grab the basics and experiment as you please. Everything from jewelry stores to thrift shops is yours for perusing.
For some tips and tricks on layering necklaces like a pro, check out our guide to stacking up more than just bills this season.
When you have two different personalities on the same day:
Hang both dainty and colorful, chunky styles around your neck as your confidence in layering grows. When upping your chain game, don't get frustrated when deciding to go big or go home. Instead, play around with shapes and sizes that tow the line between "look at me" and "leave me alone."
When you don't want to be the center of attention:
Unless you're Iris Apfel, you probably lack the enthusiasm to be noticed every day. Don't worry, you don't have to call attention to your outfit just for the hell of it.
Snag a couple minimal pieces that meld nicely to your neck and don't scream for the spotlight. Even though it's a no-fuss stack, don't skip on adding your personality.
When you hate all current necklace trends:
Unique necklaces usually reside in your mom's jewelry arsenal, not Forever 21.
Stick your neck out there for the sake of fashion by hanging a few vintage gems around your collar. Rummage through vintage shops and thrift stores for prime pieces that'll help you stand out from your jewelry-loving friends.
Make a stronger statement by DIY-ing a large spike to create one-of-a-kind stacks.
When you want your chains to hang low:
The balancing act of stacking necklaces is one to be mastered, especially when you're dressed in sweats and a t-shirt.
If that's the case, opt for a minimal look that's still distinct. Ditch oversized pendants and chain clutter by sticking with long, slim pieces that add dramatic length to your look.
When you've finally become an expert stacker:
No matter the shape or size, when you graduate to pro-stacker status, adorning your neck won't seem like work.
Mix your everyday chains with luxe, out-on-the-town pieces. Add in gemstones for pops of color. And remember, there's no such thing as going overboard.