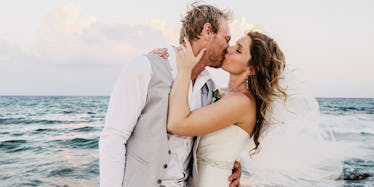 H&M Teamed With Coachella To Create 'Festival Fare' Full Of Crop Tops
Stocksy
Swedish retailer and well-priced retail giant H&M teamed up with Coachella for a new line of "Festival Fare" (because Heaven forbid you're caught listening to Alabama Shakes with a top that isn't cropped).
The H&M Loves Coachella collection features all the boho favorites you love to hate spending money on: fringe, lace tops, camel-toe-baring cut-offs, graphic t-shirts with meaningless buzzwords, tunics, wide-leg pants and, of course, crop tops.
Basics everywhere will clamor to get their paws off the bargain brand's hippie-chic attire.
It'll complement their flower crowns and "free-spirited love of music."
Can you feel my eye roll from here?
As a six-year sponsor of Coachella, H&M will sell the new collection in 350 stores in North America on March 19. The line will be available worldwide March 26.
And in case any of you ladies forget to stock up on your cut-offs and crop tops ahead of time, there'll also be a pop-up shop during the festival.
We're hoping the H&M Loves Coachella collection will help us answer our burning philosophical question: If a girl attends a music festival and doesn't wear a hippie headband, did it really ever happen?
Citations: H&M Links With Coachella for Festival Fare (WWD)