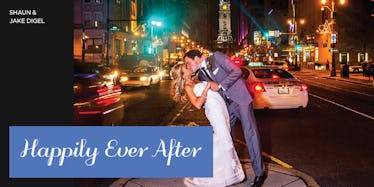 Happily Ever After: A Historic Trolley Ride Marks This Wedding Journey
Welcome to Elite Daily's Happily Ever After series, a collection of extraordinarily unique and downright spectacular Millennial weddings showcased in magnificent detail.
It's the ultimate inspiration for brides and grooms-to-be and romantics who just cannot get enough of fairytale weddings.
If your "dream wedding" folder is bursting with photos of vintage décor, vibrant flower bouquets, black tie flair, floating candles in mason jars, delightful wedding cupcakes or cake pops, (and the list goes on), our Happily Ever After series will fuel you with even more creative vision for your special day.
Shaun and Jake Digel's love story began at Penn State where they both attended college.
Although Shaun and Jake went separate ways for several years, they ran into each other again at an alumni weekend.
The bride wore a gorgeous strapless gown by Monique Lhuillier.
Soft vintage floral arrangements perfectly complemented this elegant look.
Shaun and Jake tied the knot at St. Peter's Church, right across the street from their apartment in Philadelphia. This was also the exact church that George Washington worshiped in, which the groom was really excited about.
Philly has a special place in both their hearts.
Shaun and Jake didn't let rain drops damper their spirits one bit on their romantic day. It actually added extra character to their wedding album.
The bridal party enjoyed celebratory drinks on the trolley from church to the reception, held at Hamilton Garden at the Kimmel Center.
What better way to get an awesome feel of the city?
The bride fell in love with the idea of guests sitting together at a big, cozy table.
The cake knife was a special family heirloom.
And who doesn't love divine red velvet wedding cake?
As this special day came to a close, the couple sealed it with a romantic kiss on an illuminated street of Philly, creating a historical memory of their own happily ever after story.